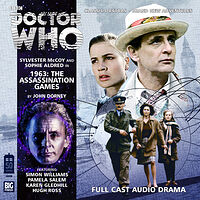 | | | |
| --- | --- | --- |
| | | |
| | Reviews for 1963: The Assassination Games | |
| | | |
There is 1 review so far. To add a review of your own for this item, visit the voting page.
By:
David Layton, Los Angeles, United States
Date:
Saturday 30 September 2017
Rating:
7
1963: The Assassination Game picks up one week after the events in Remembrance of the Daleks, with Group Captain Gilmore desperately seeking backing for his new project: Counter-Measures, a sort of UK precursor to UNIT. Sir Toby Kinsella has secured a job for Gilmore as general lookout for John Rutherford, MP, during the scheduled launch of a new missile system called Starfire. Of course, nothing is quite what it seems, especially when certain politicians get assassinated by members of a supposedly non-violent anti-nuclear protest group. Rachel Jensen and Allison Williams get coerced into investigating certain people associated with Starfire. The Doctor and Ace are working under cover, already on the job it seems. What is the real purpose of Starfire?

This story is very much in the 1988 manner of Doctor Who. It's purpose is to bring the listener nostalgia both for Remembrance of the Daleks and for the original Doctor Who. At the same time, it works as the setup story for the already running Counter-Measures series (that's time travel for you). The story is very much in the Cold War spy manner, a bit of Le Carre, a bit of Man from UNCLE, and a bit of James Bond, even perhaps a bit of Captain Scarlet. It's decidedly entertaining, even if it does not break any new ground either in Doctor Who or the spy genre.