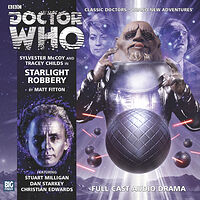 | | | |
| --- | --- | --- |
| | | |
| | Reviews for Starlight Robbery | |
| | | |
There are 2 reviews so far. To add a review of your own for this item, visit the voting page.
By:
Matthew David Rabjohns, Bridgend, United Kingdom
Date:
Sunday 24 November 2013
Rating:
9
Funny, great characters. Garundel is a right slimey freak. But I dont like the way the best character is deat with at the end of the story, Ziv. I love her and she didnt deserve the death treatment. Please big finish dont ever start the bbc penchant for killing off all the best characters in the story. But apart from this little quibble this story is fun and diverting and amusing without being over the top. could have done with a bit more Sylvester McCoy too, but great sparrings and some great cliffhangers!!!
By:
David Layton, Los Angeles, United States
Date:
Thursday 12 May 2016
Rating:
8
Sylvester McCoy's time in TV Doctor Who was spent at the extremes, either extremely trite and jokey (first season) or too deeply brooding and mysterious (the other two). Starlight Robbery strikes the right balance between these two ends, with a fairly comical first two parts transitioning to a much more serious tone in the second two parts. Matt Fitton has handled this pretty well. Fitton also handles Sontaran psychology well. There are still some problems with big scale and small cast, which always makes it difficult to make the scale convincingly big enough. Another negative for me is the character of Will Arrowsmith, who is just too awkward, geeky, and so on for me to tolerate. He just irritates me. This is not a knock on the actor, just on the character. The acting throughout this story is very good, with Dan Starkey magnificent as four or five different Sontarans.

On a side note, while I was listening to the exchange between Klein and Marshall Stenn, it suddenly struck me that were Big Finish ever to decide to do a serious series with a female Doctor, Tracey Childs would be the perfect actor for the role.