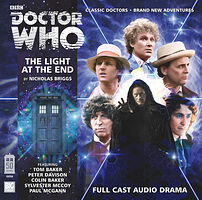 | | | |
| --- | --- | --- |
| | | |
| | Reviews for The Light at the End | |
| | | |
There are 2 reviews so far. To add a review of your own for this item, visit the voting page.
By:
David Layton, Los Angeles, United States
Date:
Sunday 19 October 2014
Rating:
8
In "The Light at the End" Nick Briggs takes on his own "Day of the Doctor" with eight Doctors involved. Now that is some task, with potential overwhelming complications. For the first three Doctors, voice actors imitate them and then they get the spectral treatment, so that one does not hear the differences overly much. Even then, they have a key role to play in the plot. For the rest, we get Doctors 4,5,6,7 and 8, in equal measure, each with one key companion. Of course, with so many leads, none of them gets significant time, but each still manages a key role in the plot. This time, the Master is out to wipe the Doctor from history, and only the Doctor can save himself. And, as usual, with all this Doctor meets himself stuff, once the damage is undone, it is as though it had never happened. Briggs does very well in limiting the amount of Doctor squabbling, opting instead for moving along the plot. It is a very tall order for a writer, and one must give kudos to Briggs for managing the job with some grace and only a few minor stumbles.
| | | |
| --- | --- | --- |
| | | |
| | The REAL 50th Anniversary | |
| | | |
By:
James Vick, poole, United Kingdom
Date:
Thursday 7 January 2016
Rating:
10
A 50th anniversary done right, all the Doctors and companions used here are used perfectly, the Master is used perfectly, unlike some of his/hers more recent TV appearances and the plot isn't easy to follow. The only very minor complaint i have with this story is the its a shame Big Finish couldn't use New series content at the time because it would have been brilliant to hear David and the others interact with the classic Doctors, but that's a very minor issue and doesn't effect the story at all. 10/10 Big Finish at it's best!