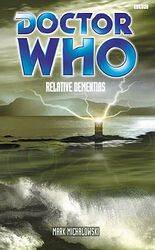 | | | |
| --- | --- | --- |
| | | |
| | Reviews for Relative Dementias | |
| | | |
There are 9 reviews so far. To add a review of your own for this item, visit the voting page.
| | | |
| --- | --- | --- |
| | | |
| | A truly excellent 7th Doctor & Ace book | |
| | | |
By:
Brax, Coventry, England
Date:
Wednesday 16 January 2002
Rating:
9
For the first time since Nightshade, we have an excellent adventure starring the televisual seventh Doctor and Ace. It's a fantastic story in the season 26 mold, wrapped up in a stylish cover and begs for a re-read at some point. I hope to see Michalowski return.
Well, after dragging through the first half of this book, I was pleasantly surprised. The second half really made up for the slow beginning and all things were definitely explained to eliminate the confusion caused by certain plot twists.
By:
Gerry, London
Date:
Saturday 6 April 2002
Rating:
8
A very enjoyable book with a clever-and intelligible - temporal paradox as part of the plot.It's the usual alien invasion stuff but there are enough surprises to keep you guessing up until the end.
| | | |
| --- | --- | --- |
| | | |
| | A nicely plotted adventure | |
| | | |
By:
James, Bristol, England
Date:
Friday 3 May 2002
Rating:
7
Relative Dementias has a good plot, featuring a neat temporal paradox, is well paced and doesn't get dull. The 7th Doctor and Ace are quite well characterised, though the former doesn't get much page space, and spends the middle part of the book lying on his back mumbling. However, the book can't quite decide how dark it wants to be, and the theme of Alzheimers disease and the dementias of the title should have been explored in a bit more detail. Overall, a satisfactory read for a long train journey.
By:
Julian White, London, England
Date:
Thursday 23 May 2002
Rating:
9
A splendid story, with the Doctor and Ace recognisably the televisual version and an intriguing plot which plays with time - unusual for a series which deals with time travel.
By:
J Sykes, England
Date:
Sunday 20 June 2004
Rating:
8
This was a brilliant story with a well structured plot and great characters although the end was slightly confusing.
| | | |
| --- | --- | --- |
| | | |
| | Something really special. | |
| | | |
By:
Brian Smith, University Place, WA
Date:
Monday 8 January 2007
Rating:
10
Brilliant story, superbly executed. Wow!
By:
,
Date:
Thursday 24 December 2009
Rating:
7
The story takes a long time to get into gears and is rather boring at the beginning. Once all the pieces are clear, it's a bit confusing but entertaining nonetheless. Ace plays a major part so be warned!!!
By:
David Layton, Los Angeles, United States
Date:
Tuesday 23 November 2021
Rating:
5
This novel reads like a piece of fan fiction. The writer has pulled out a few formula plot bits typical of Doctor Who and added some timey-wimey to make it seem clever. The plot involves Doctor 7 and Ace going to retrieve some of The Doctor's mail on Earth. He gets a card from a UNIT scientific advisor who seems to be a replacement Liz Shaw about some strange goings on at an Alzheimer's clinic in Scotland. So, they head to Dumfries, where indeed strange things are happening at Graystairs. The plot then proceeds through Ace getting chased in a spaceship, getting chased on an island, and getting chased in the forest. After all this running around, she and the reader are little wiser about what is going on than they were before all the running around happened. We also get over-emotional Ace, who is alternately petulant and mad at The Doctor, then his most loyal supporter. Ace is not the only character who goes through these oppositional mood swings that happen when the plot seems to be slowing down, thus giving it an artificial kick start. Additionally, there is one heck of a lot of sneaking in and out of Graystairs, the most unguarded base for alien incursion there has ever been. Really, the book seems to have been written on the A.E. van Vogt plan of jamming in some plot twist every 2000 words and never mind if the twist makes little sense. And, to top it all off, we get a whole new set of UNIT characters with no mention of any of the old ones. But these UNIT characters are soppy and emotional, which is what Michalowski seems to think is needed for "realism." Therefore, the reader is awarded with a long diatribe against The Doctor along the old saw that whenever he shows up, people die, so therefore it must all be his fault. It is sort of like blaming the ambulance crew, because after all when they show up people often die. It amazes me that so few can see how ridiculous this blame The Doctor thinking really is. So, ultimately, the novel is just not competently written.