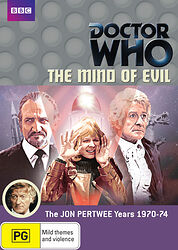 | | | |
| --- | --- | --- |
| | | |
| | Reviews for The Mind of Evil | |
| | | |
There are 3 reviews so far. To add a review of your own for this item, visit the voting page.
| | | |
| --- | --- | --- |
| | | |
| | Bringing back the colour to my life | |
| | | |
By:
Trevor Smith, Nottingham, United Kingdom
Date:
Wednesday 5 June 2013
Rating:
9
And so after 40 years the Mind Of Evil is back in glorious colour.
Stuart Humphreys, who coloured episode 1 by hand, frame by frame, and the Restoration Team who "recovered" the colour for the rest of the episodes have done some miraculous work in making this DVD look so good.
Of course there will be some people who show their ignorance by complaining that the colour is not "perfect" (see Ambassadors of Death review ) not realising what little the RT had to work with. Ignore such reviews, this is the work of geniuses.
The story itself is a wonderfully exciting romp with the Doctor, the Master & UNIT on glorious form.
Don Houghton's story's (inferno & MOE) are among the darkest, most adult story's that classic Who ever made.
Essential buy.
By:
Matthew David Rabjohns, Bridgend, United Kingdom
Date:
Sunday 9 June 2013
Rating:
10
The colour here is excellent: bright life back for one of my all time favourite Doctor Who stories. Another Don Houghton marvel of a tale, with more adult themes. Roger Delgado perhaps gives his best ever performance as the Master here, and Jon Pertwee is as brilliant as he ever was. The restoration of this story is excellent (Im not going to say its perfect or say that anyone restorers don't do a good job, they can only work with what limited material they have, which I AM well aware of!!!!! Just cant help it if previous releases have been distracting) The Mind of Evil is still one of the very best examples of Doctor Who at the height of its powers. Brilliant action, brilliant acting, and very good production indeed make this story a real real treat.
By:
David Harding, Middlesbrough, United Kingdom
Date:
Tuesday 27 October 2015
Rating:
10
Just amazing Pertwee, a great watch!!