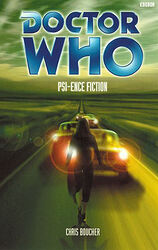 | | | |
| --- | --- | --- |
| | | |
| | Reviews for Psi-ence Fiction | |
| | | |
There are 5 reviews so far. To add a review of your own for this item, visit the voting page.
By:
the Traveller, Stuck in the Middle (of Lewes)
Date:
Sunday 4 June 2006
Rating:
7
A very weird horror story which places the 4th Doctor in a totally unseen situation. The characters of the university students are well written, and Leela's character (as always by Boucher) is taken care of. The ending is a tad disappointing though, with its technobabble overload.
By:
Hatman, Where all da rappers are
Date:
Wednesday 9 August 2006
Rating:
6
Yet more philosophical mumbling and timeline bending nonsense. Most Doctor who books have a fair bit of the stuff. It looks like a kind of white sludge, like tar but white. What am I talking about? I forgot, during the cold war...
By:
Trevor Smith, Nottingham, United Kingdom
Date:
Thursday 6 March 2008
Rating:
7
An intresting tale with the 4th doctor & lela. Builds up nicely but then rushes towards the end.
By:
Darek Pilař, Pardubice, Czech Republic
Date:
Sunday 21 August 2011
Rating:
10
I never like horror movies for they boring and obvious situation, but if are horror books written at least half great good like this I certainly gonna read them. This books is brilliant in my point of view. All "supporting" characters are pretty fast likeable and you are interesting what's gonna happen next from cover to cover. Only negative on this is, that The Doctor and Leela haven't much room in this book and most attention is concern on University students, but that isn't necessarily bad thing (and even dispite of that Leela is my favourite companion)
It is very good book, especially for foggy days, or autumn evenings.
By:
David Layton, Los Angeles, United States
Date:
Sunday 4 December 2016
Rating:
7
The Doctor and Leela land in England ca. 2001 near a second-tier university where ill-conceived experiments in psi powers have caused an apparent rip in the universe. The book is typical of Boucher's science fiction in a number of ways, and reminds me a bit of Star Cops. One way is that characters are just a bit rounder than "types." They have backgrounds and hidden depths both good and bad. Another is the dialogue, which involves much sniping back and forth, with characters exercising power through sarcasm. A third is that investigators, the Doctor and Leela in this case, sort of blunder into the correct answer rather than discover it. Some areas of this book are not as good as I have seen in other Boucher works. The college students are not differentiated enough in their dialogue, which makes them difficult to distinguish from each other and difficult to sympathize with. Another is that Leela seems to me to be too primitive, a surprising aspect given that Leela is Boucher's creation. A third is a problem haunting it seems all novels using Doctor 4, namely that he is just a bit too distracted and scatter-brained. Boucher puts this down to the effect of the rip in the universe, but even so, on TV Doctor 4 could give a straight answer now and again and could give a coherent explanation every once in a while. Not in this book. The merits of the book are mainly related to some tight plotting regarding the who, how, and why of the evil scheme. It's a decent enough read, but not hugely compelling.