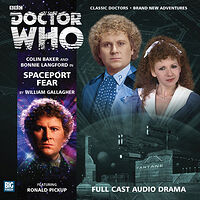 | | | |
| --- | --- | --- |
| | | |
| | Reviews for Spaceport Fear | |
| | | |
There are 3 reviews so far. To add a review of your own for this item, visit the voting page.
By:
Clive T Wright, St Lawrence, United Kingdom
Date:
Friday 3 May 2013
Rating:
8
Take a space port, roaming monster, failing power, devolved Society of passengers, throw in a little mystery and its the recipe for a great story.
| | | |
| --- | --- | --- |
| | | |
| | Slow start,but better finish | |
| | | |
By:
Matthew David Rabjohns, Bridgend, United Kingdom
Date:
Saturday 25 May 2013
Rating:
8
The story starts very very slowly indeed in my opinion, but after part one quickly picks up a much needed pace and contains some brilliant and freaky scenes. One of the very best is the excellent cliffhanger to part two, which has the Wailer scream and attack one of the sad members of the Economy. The sound design here is absolutely top notch, and made me jump just a little bit.
Another excellent thing is once again hearing the great Bonnie Langford again, who just slides back into a far more involved character than her screen stories ever gave her. And again she proves what a fantastic and strong companion she is. Here she even gets to be really really angry with Elder Bones, and its great hearing some bite to her character. And again, its a relief not to hear her screaming every single second at something like she did on screen. Its great to hear her sparring with Colin Baker again, they gel so well and bring these stories to life. Although maybe Id like to hear her once more with Sylvester McCoy, for how long has that been now? The Wailers are also a strong race, brilliant brought to life with a guttural voice that almost seems to vibrate.

And we get to hear Beth Chalmers once again, although once one hears her performance in the lost stories series as Raine, I kind of feel no other character she plays in these audios is quite as brilliant or likeable as Raine. But she is a reliably brilliant actress, and so its great having her on board again, and her demise is a bit grizzly to say the least.

After the rather slow start the story ends very well indeed, and is solid and a firm storyline. Its just nothing absolutely mind blowing, but Bonnie is very strong indeed here, and I cant wait to get the next in the series if its just for her alone!!! Although Ronald Pickup deserves a plaudit as Elder Bones, giving a great performance as the nasty moronic Elder Bones. So this story is not absolutely great, but it is good, especially in the build up to the climax.
By:
David Layton, Los Angeles, United States
Date:
Monday 27 March 2017
Rating:
7
Spaceport Fear has much going for it. This entry into the devolved society genre works the trope well. 500 years ago, the spaceport went into lockdown. The survivors devolved into two rival societies - Economy and Business. This setup is the source of many jokes about airports as the societies turn the ordinary into the irrationally important and stock phrases become maxims. The two societies both fear a monster, the Wailer, living in the control tower. There is much to say about why devolved societies of this kind would never come about, but the fun of it in this episode and the conviction put into it by the actors make the listener almost forget how preposterous the setup is. The excellent Ronald Pickup is marvelous as Elder/Director Bones, an unrepentant villain whose justification is that he is only doing what is practical and necessary. What drags this episode down for me is the last 20 minutes or so. We get introduced to an alien culture whose communication can only be described as a torture to listen to given the torture that must have gone in to creating the voice. There is a failure of conception as well. Given that a baby Wailer is huge, just how big are adult Wailers? Certainly they must be too big for several of them to chase people down hallways. While we get a good idea of the Wailer's sound, we get little information on what it might look like. We also get the false dilemma of an impending nuclear meltdown the failsafe for which can be turned off by mere touch of a button and the stoppage of which can happen merely by unplugging the cord. Clearly, the writer had no sense of engineering. So, very interesting and entertaining first three parts, disappointing fourth part.