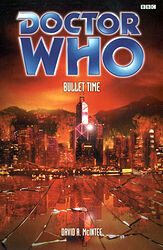 There are 2 reviews so far. To add a review of your own for this item, visit the voting page.
By:
Hatman, kong hong
Date:
Tuesday 8 August 2006
Rating:
6
Very good. until the end. Contradicts the 2006 series episode School reunion. Why? Read it and find out! If the ending was good, this would have got 8. If the rest of the book was like the ending, this would have got 4.If this book was city of the dead, this would have got 2. If? Why? Who? What? When? How? Where?
By:
Trevor Smith, Nottingham, United Kingdom
Date:
Thursday 25 October 2007
Rating:
8
A good, excting story told at a cracking pace. An unusal story with a meeting of the 7th doctor & Sarah Jane. Lots of action well told & a sex scene for Sarah Jane !!!!