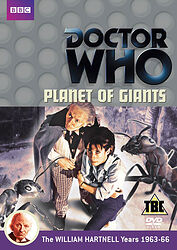 | | | |
| --- | --- | --- |
| | | |
| | Reviews for Planet of Giants | |
| | | |
There are 2 reviews so far. To add a review of your own for this item, visit the voting page.
By:
Trevor Smith, Nottingham, United Kingdom
Date:
Tuesday 18 September 2012
Rating:
7
This is a really good example of how the 60's Who production team tried, with a minuscule budget to make an intresting & imaginative story.
The sets are really good & I found myself gripped during certain scenes. This really is Barbra's story & Jackie Hill is really excellent.
The story of industrial espionage doesn't really work for me & the editing of episodes 3 & 4 really spoils the end.
An intresting set of extras not least with the reconstruction of what episodes 3 & 4 would have been like it the story had not been butchered. I for one would have enjoyed the story more on its original form.
The restoration is, as ever, staggeringly good espically if you are familiar with the VHS releas.
An essential part of Who history.
| | | |
| --- | --- | --- |
| | | |
| | Very very good stuff indeed | |
| | | |
By:
Matthew David Rabjohns, Bridgend, United Kingdom
Date:
Tuesday 27 November 2012
Rating:
10
Planet of Giants just happens to be one of my very best William Hartnell episodes of the series. This shows the BBC trying their utmost to create a different sort of tale on a practically non existant budget, and achieving it very well indeed. There is plenty of excellent design work. For a start, the huge insects and worms all look fantastic for the time espescailly the ant and the fly, great early imaginative and realistic design.

And the first TARDIS crew are all on very fine form indeed. Jacqueline Hill again gives a brilliant performance as the poisoned Barbara, and William Hartnell is as leading and authoratative as ever, and just reminds me why he is such a brilliant Doctor. William Russell just gels with Jackie all the way through their time on the show too, and together with Carole as Susan they reaally do seem like a family.

And the plot isnt bad either, and the ending is really good, with the miniscule TARDIS crew putting an end to the murdering Forrester's schemes. All the elements of this tale work very well indeed, and show a very credible world of giants for the crew of the TARDIS to fit into. Very well done indeed.