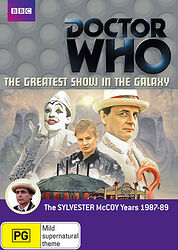 | | | |
| --- | --- | --- |
| | | |
| | Reviews for The Greatest Show in the Galaxy | |
| | | |
There are 2 reviews so far. To add a review of your own for this item, visit the voting page.
By:
Trevor Smith, Nottingham, United Kingdom
Date:
Tuesday 18 September 2012
Rating:
7
While not the greatest show in the galaxy, it's still a pretty good story. It's a story with a lot of imagination & intresting characters as well as a really good cast. The location shooting ( fortunately shot during a heatwave) looks beautiful. The charachters like bellboy & wild child are really intresting. At leat they were trying to do something intresting & different.
It's not all good. The rapping ringmaster is toe curllingly awful & as for the fan boy.........
The making of documentary on the DVD is really intresting given the troubled production of this story & hats of to JNT for making sure it didn't end up like Shada.
By:
Matthew David Rabjohns, Bridgend, United Kingdom
Date:
Tuesday 27 November 2012
Rating:
10
This story really does have it all. The werewolf conversion of Mags at the end of part three, in my book, just happens to be one of the most frightening things done in Doctor Who for a long time. The transformation is not over the top and rediculous, but just shots of Mags getting more and more primal and bestial, and that make up is disgusting!

Sophie Aldred really comes alive for the first time too, and demands to let us know what a great companion and foil she is to the ever brilliant Sylvester McCoy. The clowns are all creepy and unnerving too, and the eye in the chasm is one of the best effects the series did in a long time. And the Gods of Ragnarok immediately impress with great stone faced design and rather disturbing voices that terrified the hell out of me when I was younger.

The cast of this one too are of a very high standard, particularly the light relief given by Peggy Mount, who is brash but extemely funny in the few scenes shes in. Im sad that the character of Flowerchild doesnt last just a bit longer, though the BBC always see fit to get rid of highly interesting characters who should have stayed. The Bus conducto too is a creepy robot. So there is nothing really bad that comes to mind with this story at all. It is a great, highly entertaining and creepy excerpt of Doctor Who.

One of the very best Doctor Who stories of the eighties, definitely Id say. And to think it almost got cancelled, well that would have been a travesty!