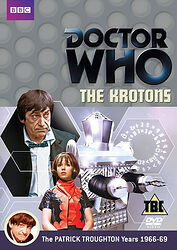 There are 2 reviews so far. To add a review of your own for this item, visit the voting page.
| | | |
| --- | --- | --- |
| | | |
| | Yet again, maligned for no reason.... | |
| | | |
By:
Matthew David Rabjohns, Bridgend, United Kingdom
Date:
Tuesday 3 July 2012
Rating:
9
In my mind season 6 of Doctor Who was not the degenerating, boring story filled season that many seem to think it was. For a start there was the Mind Robber, a brilliantly different and whimsical fairytale and very fresh and new for the series, then there was the long but very very robust and highly enjoyable Invasion, The Seeds of Death also brought us a brilliant sequel to the original Ice Warrior tale, the Space Pirates was a brilliant space opera with one of Rob Holmes best ever characters, in Milo Clancey. And the War Games was a truly fitting and engaging end to Pat's tenure as the Doctor. Even the Dominators is a story I dont have any trouble liking, for the brilliant lead cast and Rago and Toba. And then we come to The Krotons.

For a start the krotons themselves are brilliant! I have always loved the weird diamond heads and that lumbering wide gerth of theirs, and that booming voice is definitely one of the best monster voices of the classic black and white years of who, simply booming out like a bass drum and immediately commanding attention.

Philip Madoc also makes his presence felt in his debut true Who appearance, and is the same cool collected character he is in every other of his appearances on the show.

Patrick Troughton surely shines too, giving a brilliant performance once more as the errant time lord, and he is ably assisted again by the wonderful Frazer Hines and Wendy Padbury. The slight banter between the Doctor and Zoe is always fun and diverting too.

And the plot isnt hypholuted like so many of the new series scripts. It simply boasts a great plot, thats easy to follow and easy to enjoy very much indeed. This was a story in a season far too maligned, and to me, this stick is totally unwarranted. Far from being one of the worst seasons, its actually one of the better seasons, if only in my view.
| | | |
| --- | --- | --- |
| | | |
| | Monsters in rubber skirts | |
| | | |
By:
Trevor Smith, Nottingham, United Kingdom
Date:
Tuesday 18 September 2012
Rating:
8
I'd not watched this for a long time & wasn't particularly looking forward to watching this on DVD as I hadn't really enjoyed it before. Maybe it was the fact that it had been cleaned up for the DVD ( the VHS release was a bit grubby & murky ) but I enjoyed this much more than before.
The story is actually okay & intresting. The interplay between the Doctor & Zoe is delightful espically during the computer test scene. Phillip Madoc is, well, Phillip Madoc. Mean, moody & magnificent.
It's not all good. The Krotons themselves are very poorly designed, monsters in rubber skirts & it's dragged out a bit to long. A 3 or 4 part would have been better. All in all, better than I remember.
There is one extra on the DVD that is worth the price of the DVD it's self. Second Time Around, a docu biog of Pat Throughton is wonderful. A really moving & intresting price on the great man & everybody who appears on screen speaks with warmth & love about him.