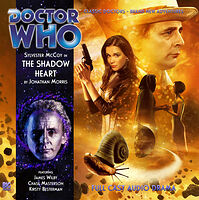 | | | |
| --- | --- | --- |
| | | |
| | Reviews for The Shadow Heart | |
| | | |
There are 3 reviews so far. To add a review of your own for this item, visit the voting page.
| | | |
| --- | --- | --- |
| | | |
| | Part 3 of the trilogy (star wars) | |
| | | |
By:
Clive T Wright, St Lawrence, United Kingdom
Date:
Sunday 23 December 2012
Rating:
10
Death Star, millennium falcon (or giant snail) princess and bounty hunters. Throw in the Doctor, mix up with lots of time travel and it all comes together to a great conclusion to the trilogy.
By:
Doug W, Colorado, United States
Date:
Sunday 20 January 2013
Rating:
7
...With a dash more Star Wars thrown in, yes.

The Shadow Heart is an entertaining end to an epic trilogy, the previous two parts of which can preferably be bypassed. Here we finally have an amusing script, great use of time travel and the TARDIS, and great sound effects, including the chuckle-inducing sound of Hercules the stellar ammonite (or giant space snail), which sounds something like Chewbacca, but much funnier. And here, the companionless Seventh Doctor is once more playing his familiar role of master manipulator...
By:
David Layton, Los Angeles, United States
Date:
Monday 10 January 2022
Rating:
6
The Drashani trilogy was certainly more interesting than the Excelis trilogy, but still suffers from many of the same problems with a flat ending. This last part is humorous, more so than the previous two, and a typical Jonathan Morris time-tangle tale. Yet, try as he might to give this grandeur, Morris fails. Prince Kylo, far from being a powerful villain is instead a lonely old man living a hermit existence in a castle of his own making (how the hell did he do that?) and living off a diet of revenge fantasies and romance fantasies. The Wrath are now rather boring do-gooders gone wrong, misinterpreting their program so that they assume that their idea of justice is the one true idea of justice, and meeting fatal, totally unjust punishments for non-compliance, basically the death penalty for a parking violation. This is all somehow The Doctor's fault (again????!!!), even though it isn't. Plus, we get Vienna, the happy-go-lucky assassin for hire, whom we are somehow supposed to like because she's just a cheeky rogue and we should ignore all the pointless killing she does. The whole arc of Kylo's story just felt like a letdown to me. So, there is some clever playing around with time, some funny lines and characters, which help elevate the story a bit. It remains for me a disappointment, though.