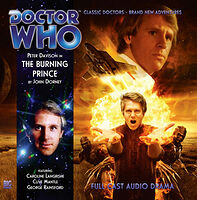 | | | |
| --- | --- | --- |
| | | |
| | Reviews for The Burning Prince | |
| | | |
There are 3 reviews so far. To add a review of your own for this item, visit the voting page.
| | | |
| --- | --- | --- |
| | | |
| | Solid story with pace but fizzles out | |
| | | |
By:
Clive T Wright, St Lawrence, United Kingdom
Date:
Thursday 1 November 2012
Rating:
7
A break from his companions, throws the Doctor into a fast paced story, that rushes towards its end. Monsters, empires, families, twists, crashes and lots and lots of death. An enjoyable story but as you wade through corpses as the plot rushes towards its conclusion you just know what's going to happen.
By:
Doug W, Colorado, United States
Date:
Saturday 5 January 2013
Rating:
3
When I became aware that Doctors 5, 6, and 7 each have dealings with the Drashani Empire in this story and the two that follow, that connection intrigued me, and so I've just managed to listen to The Burning Prince all the way through. It was not easy.

Fast paced it may be, but it's a story that features a bunch of maulings by huge beasts... and then another bunch of maulings... and another... you get the idea. There's not a whole lot going on here other than maulings, and the emergence of the titular Prince's burning state.

Add to that the fact that Peter Davison had a "heavy cold" while recording this story, to the point that a punch in the nose was even written in to explain it, and you have very difficult listening indeed. I'm really amazed that production couldn't be delayed by a week or two to get this duck in the row so as to at least do this thing properly, but I suppose it would've meant juggling too many other changes.

We'll see if The Acheron Pulse and The Shadow Heart make this worth it.
By:
David Layton, Los Angeles, United States
Date:
Tuesday 22 October 2019
Rating:
7
Here we have the first part of a trilogy. This trio reminds me quite a bit of the misguided Excelis trilogy, with different Doctors visiting the same place at different points in its history and encountering the same character or two and basically unable to save much of anyone or rescue the empire (in Excelis it was a planet) from destroying itself. Doctor 5, trying to reach Amsterdam, gets pulled off course and finds himself on a spaceship supposedly on a rescue mission and a mission of mercy. Their job, find the missing princess so she can marry the prince of a rival family and save the Drashani Empire from tearing itself apart in civil war. If only it were that easy. This story is the roller coaster without brakes variety. It gets up to running speed within 3 minutes and keeps racing at high velocity with nearly neck-breaking twists and turns every 10 minutes or so. Thus, writer John Dorney gives the listener little time to think of how unlikely all of this is. Be forewarned. This is another of the Doctor makes rash promises and ends up severely disappointed kind of story.