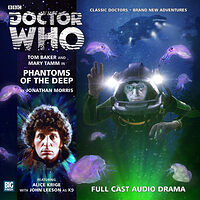 | | | |
| --- | --- | --- |
| | | |
| | Reviews for Phantoms of the Deep | |
| | | |
There are 2 reviews so far. To add a review of your own for this item, visit the voting page.
| | | |
| --- | --- | --- |
| | | |
| | SOUND SCENE IMPRESSIVE.... | |
| | | |
By:
Matthew David Rabjohns, Bridgend, United Kingdom
Date:
Friday 5 July 2013
Rating:
10
This Tom and Mary season just keeps getting better. Still is so brilliant to listen to the delightful Mary. She will be sorely missed now. These stories too just keep getting better and better. Jonathan Morris again has his brilliant fascination with the concept of time, but here we get the deep and the water soundscape of the deep also into the mix. And add to that a real fast paced decent storyline and great performances and we get what we always expect of Big Finish. I first rate adventure that just gets going and doesn't pause for breath. The TARDIS crew of 1978 is so brilliantly evoked so far in this second run of Tom's story for Big Finish. All I cat wait for now is the Fourth Doctor meets the Cybermen again...its been too long since Revenge of the Cybermen. This story really does have an awesome deep sea feel sound scene to it. It makes you feel the claustrophobia palpably. Jonny Morris has just gone and done it again. A corker of a story. And I don't think I need to mention Alice Krige relly do I?
By:
David Layton, Los Angeles, United States
Date:
Saturday 25 April 2015
Rating:
6
Set in the bottom of the Mariana trench, "Phantoms of the Deep" has the Doctor, K9, and Romana picked up by an exploration vehicle deep under water, which in turn is picked up by an alien vessel that has created an artificial environment at the bottom of the ocean and is now sifting through species giving them extra intelligence and waiting for the right sort of intelligence to enhance and thus convert to save a dying (or dead) race. It does have the feel of 1978. Romana is a little bit more active in this one than in the TV series. Still, there are too many bits of plot by convenience, not the least of which is two, count them two, self-sacrifices so that our heroes don't have to die.