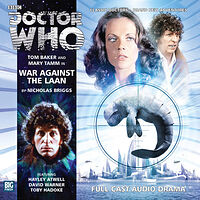 | | | |
| --- | --- | --- |
| | | |
| | Reviews for War Against the Laan | |
| | | |
There are 2 reviews so far. To add a review of your own for this item, visit the voting page.
By:
Matthew David Rabjohns, Bridgend, United Kingdom
Date:
Thursday 9 May 2013
Rating:
10
War Against the Laan maintains, if not exceeds, the brilliance of the Sands of Life to deliver one of the finest endings to a Doctor Who story in the whole history of the show, at least in my opinion. The grit and tension mounts up splendidly well, and never once is the whole story stilted or laboured. And also we get one of Tom Baker's extremely riveting and diverting stabs at absolute fury, one of my all time favourite scenes of his Doctor in the classic series was his irate anger at the murderous antics of the Captain in the Pirate Planet, and here we get another of those rare moments where Tom displays the reason why he's such a brilliant actor. And as once more he's aided so very amply by the brilliant late, great Mary Tamm then one can not fault this story in anyway whatsoever.

Even David Warner's Cuthbert seems to up his psychotic attitudes, and becomes one of those excellent Who baddies who has no shred of goodness in his bones at all, but is supremely bad and deviant, and makes the story so much more spicy because of it. And now for the last two episodes we have yet another absolutely brilliant actor, in the form of Hugh Fraser, on board as the weak willed Professor Tallister. The guy gives just his usual vivid performance and is a total contrast to Cuthbert.

And here in these last two episodes I love the rising gumption that Sheridan Moorkurk gets at last to stand up to the Conglomerate and also make peace with the Laan. And Jane Slavin's Laan again are brilliantly realised and make for a very well explored alien character. The Auntie Matter was a whimsical brilliant starter for this season, but this five part story is one of those epics that still are so exciting that it doesn't seem like over 2 hours at all. War Against the Laan is absolutely brilliant writing. One expects no less from the great Nicholas Briggs though....
| | | |
| --- | --- | --- |
| | | |
| | Essentially Part 3 & 4 of a 4 Parter | |
| | | |
By:
David Layton, Los Angeles, United States
Date:
Friday 15 November 2019
Rating:
7
The War against the Laan picks up right where The Sands of Life left off. The Doctor and Romana try to prevent a catastrophe, basically either genocide of the Laan or genocide of humanity. The catastrophe is brought about through a mixture of misunderstanding and stubbornness. The story also adds some mystery about the character of Cuthbert (David Warner), so you know he will definitely be back.