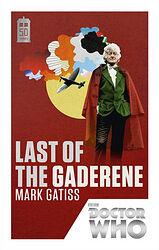 | | | |
| --- | --- | --- |
| | | |
| | Reviews for Last of the Gaderene | |
| | | |
There are 5 reviews so far. To add a review of your own for this item, visit the voting page.
By:
J. Harrison, UK
Date:
Saturday 21 December 2002
Rating:
10
This book was so true to the spirit of the television series and the particular era that it is trying to evoke that I keep expecting to find a copy of the video on my shelf. Highly recommended.
| | | |
| --- | --- | --- |
| | | |
| | Represents its era too well | |
| | | |
By:
Siskoid, Moncton, NB
Date:
Friday 14 October 2005
Rating:
7
Yes, last of the Gaderene could slip right into the UNIT era of the series, but it so closely follows that formula that it can hardly be called original. The Gaderene couldn't be realized on the tv budget of the time, but they're still clichés. As is everything that happens.

And yet, it's all done very well, with a lot of loving care put into the guest cast and making the village charming and its people endearing. I found myself caring for them and everything.

Overall: Like watching a 3rd Doctor episode, but maybe the novels should try a little harder?
| | | |
| --- | --- | --- |
| | | |
| | A fun story *Review includes Spoiler* | |
| | | |
By:
Trevor Smith, Nottingham, United Kingdom
Date:
Monday 2 July 2007
Rating:
8
Mark Gatiss is a long time Doctor Who fan & it really shows in this fun, excting homage to the Jon Pertwee/3rd Doctor. The gang are all here. The Doctor, Sarah Jane, Lethbridge-Stewart & unit and then half way through The Master arrives. Enjoy.
I always loved the Pertwee era. This book captures the era perfectly. Its exactly how it should be, twists and turns at every oppitunity. The Doctors on top form and so is Jo whose character really is something in this book, if your a fan of the 3rd Doctor and Jo, this book is for you.

Lots of twists and turns and an interesting read on the whole- loved it!
By:
David Layton, Los Angeles, United States
Date:
Saturday 9 May 2015
Rating:
7
Mark Gatiss has homage down pat in this book. "Last of the Gaderene" is pure 3rd Doctor. The story is about alien invasion by stealth. A tiny village becomes the focus of the invasion. The Doctor reluctantly investigates. Then UNIT arrive. There's a monster that is mostly immune to bullets. Jo does the opposite of what she is told. The Doctor gets to play with a new toy, a Spitfire this time. Oh, and the Master is in there as well. I can see why many readers rate this very highly, since it hits all their hotspots. I found it less satisfying for the same reason. Also, there are several bits of clumsy writing. It is fun to sink into the nostalgia, but given the possibilities of the novel format, this reader wanted just a bit more.