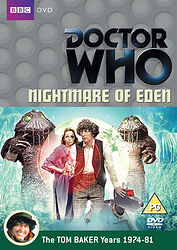 | | | |
| --- | --- | --- |
| | | |
| | Reviews for Nightmare of Eden | |
| | | |
There is 1 review so far. To add a review of your own for this item, visit the voting page.
| | | |
| --- | --- | --- |
| | | |
| | Far better than its given credit for... | |
| | | |
By:
Matthew David Rabjohns, Bridgend, United Kingdom
Date:
Thursday 21 June 2012
Rating:
9
Lets get the two weak points of the story out of the way:
The lighting in this story is just far too bright. The mandrels in the weird temporal zone actually work very well indeed, and appear more menacing than when lit like blackpool illuminations in the corridors of the spaceship. Thats the first slight niggle, but one that Ive always been able to overlook.
Second, the renowned Tom Baker over the top ooh my arms scene. This for once, Id agree, is a little too much from Tom. He was better when the humour still didnt patch the seriousness in his performance, and he just went a bit silly for once. But its only for twenty seconds or so, so I can forgive that too.

The way the story deals with the drug theme is very well done, and that dead mandrels should be the drug powder is really a very good and surprising developement, or at least it was for me and still is even now all these years later. Lalla Ward as Romana here is better, giving one of her greater performances. I love her scenes when she lets it be known to Tryst how flawed his CET machine is. I love that David Daker is mor erelaxed and natural as Rigg in this story, after his overblown attempt as Irongron in the Time Warrior.

I have always really liked this story, the pros again outweigh the cons. The effects of the distabilised zones all look very effective too, and the effects of the drug are not blown over into the realm of comedy, and this is a very good thing. A very wrongly maligned tale if you ask me...