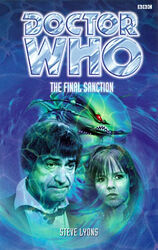 | | | |
| --- | --- | --- |
| | | |
| | Reviews for The Final Sanction | |
| | | |
There are 4 reviews so far. To add a review of your own for this item, visit the voting page.
By:
James, Bristol, England
Date:
Thursday 8 August 2002
Rating:
7
On a similar tack to 'The Witchunters', Lyons takes the Troughton space adventure and gives it a dark slant. The end result isn't as good as the witchunters, but still worth reading. After a shakey start ('Genesis of the Daleks', anyone?), this builds into an exciting, fast-paced adventure. The supporting cast are good, if uniformly angst-ridden, and the Selachians are a cool new race. I thought the bits with the Doctor on the 'Triumph' (the Doctor tests just how much Time can be played with) were very gripping, but got a bit bored with Zoe's chapters, which were a predictable cycle of capture/escape/capture. However, the ending is excellent. All in all, a satisfying read.
By:
David Layton, Los Angeles, United States
Date:
Saturday 6 September 2003
Rating:
8
Since the Virgin novels days, Lyons has been working on the history of his pet monsters, the Selachians, the sharks of outer space. This is the final? book about them. In one sense it is, because it movingly and compassionately tells of the demise of their race. As with "Warriors of the Deep," the overall mood is not outrage at war, but sadness at the destruction, personal and social, that it causes. Lives are ruined in all sorts of ways. My one complaint is that this story may have been better not being Doctor Who, that is that the premise means that the Doctor is really not a major player in the events. Still, the book makes mighty good reading.
By:
will, Fareham, England
Date:
Saturday 8 November 2003
Rating:
10
Yes the aliens from the murder game are back and this book is another good book from Steve LYons. although not as good as his others this is still a enjoyable book.
By:
Trevor Smith, Nottingham, United Kingdom
Date:
Monday 22 July 2013
Rating:
7
This is an okay sort of story. Not terrible but not great either. The story never really griped me enough & felt more like a Star Trek story than Dr Who. This TARDIS team are my favourite team but for me it never really feels like the Doctor, Zoe & Jamie.