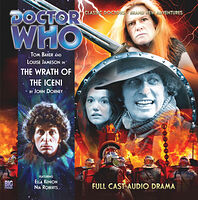 | | | |
| --- | --- | --- |
| | | |
| | Reviews for The Wrath of the Iceni | |
| | | |
There are 2 reviews so far. To add a review of your own for this item, visit the voting page.
| | | |
| --- | --- | --- |
| | | |
| | TOM BAKER'S DEBUT IN THE PURE HISTORICAL | |
| | | |
By:
Matthew David Rabjohns, Bridgend, United Kingdom
Date:
Sunday 15 April 2012
Rating:
10
As a debut for Tom in the vein of a purely historical story, this tale by John Dorney packs a massive punch. This is history at its most revealing and honest, and Tom first of all impresses with his brilliant rendition of the doctor whose quite reasonably set against fighting or revealing anything to Boudica, due to the fact of established history.

But one must praise Louise Jameson for a very very intense performance as Leela here, she somewhat is the focus of this story, though the doctor is never sidelined. Its rather like a Massacre of St Bartholomews Eve for Tom Baker. The sound scenes on this story are some of the best, and make the story extremely realistic in sound and the setting is displayed very well indeed.

The tension of the scenes between Louise and Tom here are very palpable indeed, its obvious Louise loves this script.

This is a very intense tale, and the best of the Tom Baker BFP audios so far, it boasts a few cracking good stars, delivering sharp and brilliant performances indeed. The first total historical for Tom Baker is absolutely brilliant, and very enlightening and frightening and a good character drama to the very core. Can we have more of these stories very soon please BFP, youd make this boy very happy indeed.
By:
David Layton, Los Angeles, United States
Date:
Wednesday 1 April 2015
Rating:
8
Here is a nice little pure historical, with Doctor 4 in Roman Britain, caught up in the revenge wars of Boudica. The story follows the arc of the Doctor as Leela's educator. What Leela ends up learning is the limitation of her warrior upbringing, though this lesson was not intended. Leela meets what she believes to be an image of herself in Boudica, a strong, warrior woman, capable of command and given a just cause to fight. However, this gets the Doctor tangled up in known history. The Doctor cannot convince Leela of historical fixed points. This puts the two at odds, but not exactly on opposite sides. The story presents some excellent opportunities for Tom Baker to really strut his stuff as an actor, and he comes through marvelously well. The interaction between stubborn Doctor and stubborn Leela is excellent. The major problem of the story is trying to create historical sweep with a small cast. This leads to much shouting, especially between Leela and Boudica in the battle sequence, lots of "I'm tougher than you" with the two working themselves into homicidal frenzy. That aside, the episode is quite enjoyable.