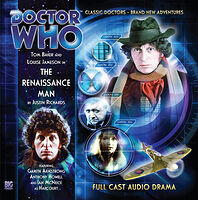 | | | |
| --- | --- | --- |
| | | |
| | Reviews for The Renaissance Man | |
| | | |
There are 2 reviews so far. To add a review of your own for this item, visit the voting page.
By:
Matthew David Rabjohns, Bridgend, United Kingdom
Date:
Sunday 15 April 2012
Rating:
10
Destination Nerva was definitely a great welcome back for Tom Baker and this follow up story is even better. Justin Richards at last comes back to write a bfp script, weve been missing his talents as a sturdy and dependable writer of audio who. And this is perhaps his finest story yet, as its a little different from anything thats been done by him before.

And its great hearing an actor the calibre of Ian McNeice bouncing so well as the enemy of the doctor in this one, two such titans of acting get a decent face off despite the short two part story length. And this story as with Nerva, bursts into life and keeps the interest all the way through. There are many decent twists and turns and its good to have an engaging and slightly different tale once in a while.

Louise Jameson of course is still going so well with Tom. Shes one of my favourite companions and all her many strengths come forward in this story as with the first of the series. One was mentally glad to hear Tom was coming to BFP to record all new adventures. And these first two stories couldnt have got the ball rolling any better in my opinion. A Great story.
By:
David Layton, Los Angeles, United States
Date:
Tuesday 7 October 2014
Rating:
8
The Renaissance Man has the Doctor 4 - Leela team working very well together. The premise that the Doctor is educating Leela works in moving stories from one destination to another. This story has an interesting premise, of a museum curator turned obsessive in his quest to collect all knowledge and ruthless with how he will do it. The premise allows us to go to wildly different settings and allows guest actors to show off their accent skills. The American west accents are a bit dodgy, but what should one expect? There are some problems in the concept, such as explaining just what the assistants are. They are described as empty people useful for fitting in and absorbing information, but they are also portrayed as machines. This conflict is never addressed. Likewise, the ending rather glibly has us assume that everyone is just returned to wherever and whatever they were before. This seems to be sweeping under the carpet rather than tying loose ends. All in all, The Renaissance Man is quite entertaining.