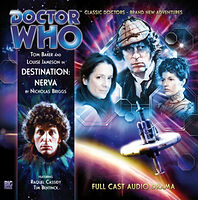 | | | |
| --- | --- | --- |
| | | |
| | Reviews for Destination: Nerva | |
| | | |
There are 3 reviews so far. To add a review of your own for this item, visit the voting page.
By:
Trevor Smith, Nottingham, United Kingdom
Date:
Tuesday 24 January 2012
Rating:
9
Oh boy oh boy oh boy. This is a real treat. Something you thought would never happen. The 4th Doctor & Lela back together. And what a cracker. The story starts off with a bang rather in a James Bond style an then zoom we are straight into the action as the story starts. Tom & Louise are in fine form an really play off each other in fine style. The story itself has slightly disappointing end but that I a small complaint in an other wise excellent adventure
By:
Matthew David Rabjohns, Bridgend, United Kingdom
Date:
Sunday 15 April 2012
Rating:
10
The return of Tom Baker in a BFP production! The first of so far what has been an excellent mini series that is a real bit of a nostalgia fest for a whovian such as me. Its been a long time, but at last we have the fourth doctor back in all his weird alien gusto. And add to that the return of Louise Jameson as Leela and you surely have such a brilliant return of two legends.

The first tale is rather a sci fi fest, featuring Nerva way before the wirrn and the cybermen. Wow, what a history the nerva beacon has, to have been invaded by so many things. And its great to hear those same sliding doors and alert signals, the same as back in The Ark In Space and Revenge of the Cybermen. But this has just the right amount of nasty elements in it to fit the era of the Hinchcliffe/Holmes era of classic Who.

All the acting is of a very high degree indeed, making the two parter burst to life right from the first minute. And this bodes well for the rest of the series. Louise slips back into Leela like she hasnt been away, and Tom is older but still absolutely excellent as the Doctor. Its great to have them both back, and great they start with such a great and atmospheric sci fi fest to get the series starting.
By:
David Layton, Los Angeles, United States
Date:
Tuesday 5 February 2013
Rating:
8
The return of Tom Baker to full drama Doctor Who is, of course, very welcome. The first adventure pairs the Doctor and Leela immediately after "Talons of Weng-Chiang." The story is pure 1977 Doctor Who in its mix of Gothic horror (1st half of part 1) and science fiction (all the rest). The soundtrack music is a combination of Dudley Simpson and Peter Howell, so again makes the listener very nostalgic. The story itself has appeal beyond nostalgia, though. It gives us an interesting twist on the "base under siege" plot. The story has a political undertone more in line with 1972-5 Doctor Who, but not at all out of character. Baker and Jameson drop right back into their roles and play off each other very well. Overall, a very enjoyable story.