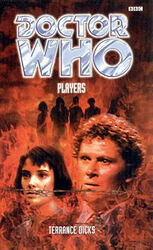 There are 6 reviews so far. To add a review of your own for this item, visit the voting page.
By:
QL, Tuxford Notts
Date:
Tuesday 5 August 2003
Rating:
6
This was a great story arc book but it just left you wondering at the end, such an anti climax. The characters were wooden and didn't sympathise with them at all. Great idea just more excitement please
By:
Tom webster, London
Date:
Sunday 23 January 2005
Rating:
8
I loved this book, another classic Terrance Dicks book, which pits the Doctor and Peri against some mysterious Foes, and they're powerful too. This book keeps you thinking right to the bitter end. Stunning.
| | | |
| --- | --- | --- |
| | | |
| | Well-constructed Historical Read. | |
| | | |
This book brought back the glory days of Terrence Dick's writing. It's been so long since I've sat down to a really good Doctor Who book with plain head-over-heels adventure and excitement.

The story is the thing, held up by some of the finest prose I've ever seen. Few writers understand that the secret to telling a truly complex story is to use extremely simple language. Even the Da Vinci Code, for all it's historical goofiness, is written very, very simply, although it lacks the warmth of this book. We get a fond look at some old friends, together with the Second Doctor, going on one last adventure in a way only Terrence Dicks could tell.

The politics in which the Doctor and Peri are immersed with Winston Churchill are actually intriguing, in a way that most writers can't achieve. The abdication crisis is handled with remarkable skill, making it one of the most intense governmental buildups ever written. Similar complexity shows toward the end of Timewyrm: Exodus, and it is a true shame that Terrence's work isn't a larger part of the literary world in Canada and the USA. This work deserves to be required reading worldwide.

Absolutely stunning.

By:
Karina, Melbourne, Australia
Date:
Saturday 15 April 2006
Rating:
7
This was the second Dr Who book I have read. It captured the relationship between the Dr & Peri very well. The character of Winston Churchill and Wallis Simpson were believable and enjoyable. The Players as characters however, and mostly annoying.
Man this book is boring i mean realy boring, dont get me wrong its well writen the characters are very well developed, beliveable and spot on (the Doctor, Peri, Churchill, Ribbentrop etc) and nicely leads to World game but god how bloody boring sorry Terrance this time no.
Go for World game its much better.
| | | |
| --- | --- | --- |
| | | |
| | 6th Doctor in a 3rd Doctor Adventure | |
| | | |
By:
David Layton, Los Angeles, United States
Date:
Friday 2 August 2019
Rating:
7
Having escaped death by slogging through some alien sewers, Doctor 6 promises Peri some hi-class relaxation. Aiming for London 1899, they arrive in South Africa 1899 just in time to save the life of a young, ambitious failed politician and war correspondent named Winston Churchill, and then get captured and sent to prison by the Boers. Somebody, however, is deliberately trying to kill Churchill himself, and this sets the Doctor to thinking about a time in his second incarnation when he again (before?) had to save Churchill from some strange people who might be time travellers of some sort. Using this memory as a jumping off point, The Doctor takes Peri to London 1936, where events are ramping up for the abdication crisis. Here, again, they meet some strange characters out to get Churchill. Dicks does a great job of inserting The Doctor and Peri into history, sticking closely to the known facts where he has to and being somewhat looser when can be. His story allows Doctor 6 to live the high life, a situation that might more comfortably have suited Doctor 3. The dialogue between Doctor 6 and Peri is spot on, giving the reader some insight into why Peri would continue travelling with the Doctor (hint: despite her protestations, she rather likes it). Dicks also has very little sympathy for Wallis Simpson, the cause of the king's abdication, and portrays her as fully a Nazi sympathizer and collaborator. As usual for a Terrance Dicks book, this is an enjoyable read, not too deep, and only a bit improbable in places.