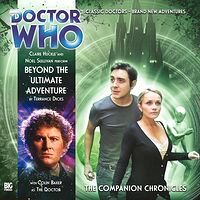 | | | |
| --- | --- | --- |
| | | |
| | Reviews for Beyond the Ultimate Adventure | |
| | | |
There is 1 review so far. To add a review of your own for this item, visit the voting page.
| | | |
| --- | --- | --- |
| | | |
| | Maybe not totally original, but.... | |
| | | |
By:
Matthew David Rabjohns, Bridgend, United Kingdom
Date:
Monday 23 January 2012
Rating:
10
Terrance Dicks at last has been asked to do a new script for the Big Finish audio range, at long last. I dont know why in the hell its taken this long to have him on board. Im waiting for his first full four parter to come along, it has to be soon! Terrance is by far the most reliable of the classic series Who writers for delivering just quality entertainment.

Here we are treated to a rare one. We have the great great Noel Sullivan and Claire Huckle back as Crystal and Jason! And boy is this a good tooting idea too, at least it is to me. I seriously cannot see why someone of amazon has given this tale one out of five, this is laughable. Noel and Claire just light up the whole production with perfect delivery, and to have the added assured talent of Colin Baker added to the mix then this story just cant go wrong. The acting is first class and all the miriad of voices well done by both Noel and Claire.

Yes, true, it may not be anything mind blowingly new, but boy its great sheer entertainment. And I love the cameos from three great stalwart enemies of the Doctor, the vampire, the rutan and the Raston Warrior Robot. I feel there could be the most awesome who tale to come from utilising the Raston Warrior race. After all theyre indestructable, so itd make for brilliant drama. Terrance's script is brilliant in its handling of the robot and how the Doc defeats it!

Maybe this would have been even better as a full cast production, but boy its great as a companion chronicle. Its got a lot of thrills along the way and the Aidalon, though only at ten minutes at the end, still comes across as a very threatening and real villain. And at last Terrance is back, and this short tale prooves he still has a lot to offer to Doctor Who. I hope he is back very soon in the future!