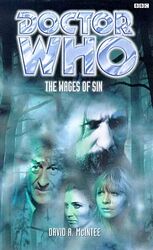 | | | |
| --- | --- | --- |
| | | |
| | Reviews for The Wages of Sin | |
| | | |
There are 3 reviews so far. To add a review of your own for this item, visit the voting page.
| | | |
| --- | --- | --- |
| | | |
| | Hartnell historical for Pertwee | |
| | | |
By:
Michael Baxter, Coalville, Leicestershire, UK
Date:
Saturday 20 April 2002
Rating:
10
This book, with its bleak evocation of pre-revolutionary Russia, conclusively demonstrates that the decision to drop purely historical stories from the TV series was a lamentably short-sighted one. Pertwee would certainly have lapped them up! I certainly had no difficulty whatsoever picturing him enacting the scenes in 'The Wages of Sin'. The Doctor's hair's-breadth escape from the train was particularly exciting, I thought, and typical of the third Doctor. Where the other characters were concerned, Prince Felix and Rasputin provided an extended helping of nail-biting tension where Felix is attempting to administer a fatal dose to the mad monk. I was a trifle disappointed that we didn't meet Czar Nicky at all: it might have been interesting to have his point of view to contrast with that of Alexandra, piously attempting to conceal her fancy for a bit of rough beneath a veneer of saintly good works. Jo Grant and Liz Shaw rubbed along together rather uneasily; perhaps it might have been better to include one or the other, or even neither, for their contribution to the plot was rather marginal. The best character of all was the engaging Kit Powell, who played the role of the Doctor's companion far more effectively than either of the two women. I was really concerned in case he got himself wasted somewhere along the way! Perhaps the Doctor didn't manage to 'drop him off at Whitehall' quite immediately? I hope I can safely leave that little hint with David A. McIntee.
A very enjoyable Pertwee story displaying how successful historical "Who" can be. The characters are particularly well drawn and the action sequences are believable. Very good.
| | | |
| --- | --- | --- |
| | | |
| | Doctor Who Meets the Mad Monk | |
| | | |
By:
David Layton, Los Angeles, United States
Date:
Wednesday 14 May 2014
Rating:
7
A Doctor 3 historical is an interesting idea. The story for this one centers on the events surrounding Rasputin's murder. The Doctor is taking Jo and Liz for his first test run of his restored TARDIS, target Siberia 1908 to witness the Tunguska meteor. Of course, they miss, and land in St. Petersburg 1916 instead. Swiftly, our trio gets caught up in the political machinery and chicanery of the times, with secret police, British spies, plot and counterplot. It took me a little time to get into the story. At first the characters seemed uninteresting, but they gradually develop. The early parts are bit of sightseeing, and it takes some time for the main plot to develop. About 1/3 of the way in, though, the pace picks up significantly. McIntee does a good job of showing how Liz might be just a little patronizing toward Jo. He also has some well-written emotional moments when the Doctor and Jo separately must face the hard truth of not messing with known history. McIntee is also careful to keep pretty close to history. He also does well in providing an alternate villain rather than head for the obvious and make Rasputin the villain. The novel is an enjoyable read, though not particularly deep. Some of the dialogue does not work for me, not feeling right for the regular characters in some places. In summary: to be read for entertainment.