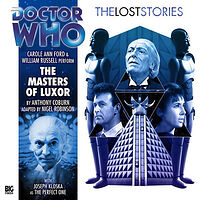 | | | |
| --- | --- | --- |
| | | |
| | Reviews for The Lost Stories: The Masters of Luxor | |
| | | |
There are 2 reviews so far. To add a review of your own for this item, visit the voting page.
By:
Matthew David Rabjohns, Bridgend, United Kingdom
Date:
Friday 5 July 2013
Rating:
10
I was rather going under the impression that this story would not match Farewell Great Macedon. After that masterful historical it would be hard for anything to reach that high point. But boy was I again glad to be proved wrong. This story boasts some very intriguing and interesting ideas, which actually seem well ahead of their time. The sound design again is absolutely corking. And the result is that The Masters of Luxor rips along and doesn't feel like three hours long whatsoever. Carole and William again seriously make me smile with their spot on recapturing of that golden age time of the first TARDIS crew who made the series get off on such a brilliant high footing. And this story doesn't half boast some memorable set pieces. This story doesn't seem much of a story geared for children, its a real mature adult tale with some pretty bold statements peppered throughout. Joe Kloska also seriously impresses in all his roles, and the Perfect One is a seriously heartless, tragic villain. Never has the look at robots and if they could possess feelings been done quite as brilliantly as it is here I this story. Really, the BBC often astounds me. I wonder every time almost why these great stories were never created. but I don't have to ask anymore. Big finish have done a stunning job and the result is an instant Doctor Who classic, just as bold and noticeable as the epic Farewell Great Macedon. Big Finish just keeps on getting better and better all the time.
By:
Andy Thompson, Wyoming, United States
Date:
Friday 13 September 2013
Rating:
7
I'm in the minority, as in I came to listen to this story not knowing *anything* of it's back-story. Also, not as much of a fan of the black&white era of the show, or rather, not having seen enough of it to know if I was a fan of it. I think I've only seen three stories of the first Doctor. Regardless, I liked this. After listening to it, I've seen comments about this story being dull, but I didn't find it that bad. I thought everyone involved in the production did a good job, from voice actors to sound design. The story wasn't awesome, but it wasn't horrible either, and it evoked the feel of those 3 stories I'd seen many years ago. Despite the length, it was worth the time to listen to it.