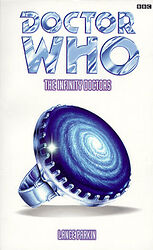 | | | |
| --- | --- | --- |
| | | |
| | Reviews for The Infinity Doctors | |
| | | |
There are 8 reviews so far. To add a review of your own for this item, visit the voting page.
By:
zeldaricdeau, Indiana, USA
Date:
Wednesday 17 July 2002
Rating:
10
This is the first Doctor Who book that I can honestly say surpassed my expectations. I have only read half a dozen at this point (all of them eighth Doctor) and each has had its ups and downs. This was the first that held me, enthralled, from begining to end! The writing style captures both the delicate and heart-breaking moments and the wonderfully funny and witty ones. The story is broad in scope, reaching farther into both the history or the Doctor and Gallifrey than any book or story I have read or seen. And it does it tastefully and carefully. I highly recomend this book to any Who fan (and even those who are new to the series). Keep an open mind with this. There is nothing to specify with complete accuracy which Doctor this is or even if this is an alternate reality Doctor. In the end, I don't think it matters. The story speaks for itself!
| | | |
| --- | --- | --- |
| | | |
| | The Early Years of Doctor Who | |
| | | |
By:
Tom Lingwood, Broseley, Shropshire
Date:
Monday 23 December 2002
Rating:
10
This is probably the most interesting Doctor Who I have read. This 35th anniversary book is beautifully written. It talks about the Doctor's early life when he was a teacher on Gallifrey. We also see Time Lords Hedin and Omega (and what happened to him) and find out how the war between the Sontarans and Rutans begin.

I would recommend this book to every Doctor Who fan. It's one of the greatest books written.

The Doctor in this story is debatable. Some say it's the Eighth but the best choice in my opinion would be a young version of the First before the events of 100,000 BC. Or it could be a Doctor in a parallel timeline.

I suggest you go out and get this book now.
By:
David Layton, Los Angeles, United States
Date:
Saturday 6 September 2003
Rating:
6
I guess this book helped creat the idea for Doctor Who Unbound audios. The basic premise is that the Doctor stayed on Gallifrey. This allows Parkin to use the basic idea of Logopolis, the universe coming to an early entropic demise, to good effect. One complaint: The Doctor and The Master are in this, as in many recent Who works, established roles in Gallifreyan society. I am not fond at all of this trend. The original idea of the name Doctor was his preservation of anonymity. The Doctor and Master are rogues, not roles.
By:
Stephen Carlin, Northern Ireland
Date:
Wednesday 3 March 2004
Rating:
7
Imagine if the BBC had turned down Sydney Newman's proposal for a new Saturday afternoon series? Now imagine that 35 years later someone finds notes about this series and decides to update the concept.

This novel is not a story of a Doctor we have seen or heard before. It tells of a Time Lord known as the Doctor and the mysterious force from the end of time that threatens Gallifrey.

This is an intriguing novel, well-written and its easy to imagine the idea being pitched to a TV executive. This book towers head and shoulders above any idea that Philip Segal considered in his re-imaging of the series.

I won't spoil it for anyone who has not read the book but foe behind the threat gets a better send off than anything that happened to him/her in the TV series.
| | | |
| --- | --- | --- |
| | | |
| | Well written, But a little unclear | |
| | | |
I really enjoyed this book and I think it was well written. But at the same time it was a bit unclear. I understand it was written not using any one of the eight doctors but a bit of all of them but I think that this aproach actually took something away from the story. I liked learning more about Gallifrey and Timelord socitey. What I didn't like is that I couldn't put a face to the doctors character. We all create a picture in our mind from the author's discription, Unless there is an actor's face we picture, but with this story there was very little. This was a real Doctor "who?". I loved the character of Larna and hope she visits again. And I hope that the information revealed in the story, such as the Doctor being married, is built on and more is reveled and explained about the Doctor's past, ot future.
Because of the lack of a definate character in the book it was harder for me to emerse myself into the story therefor it took me longer to read.
By:
Merlin, England
Date:
Monday 19 September 2005
Rating:
8
After reading this book I thought it was well written. But I was a bit puzzled of what incarnation of the Doctor this was. My first suggestion was that this was a younger version of the first Doctor. But after reading a site listing the Doctor's life I discovered that the Doctor had a previous 13 lives and that this novel takes place in that time. I may be completely wrong though. And this book may take place in an alternate timeline. What do you think.
| | | |
| --- | --- | --- |
| | | |
| | I Don't Think It Matters Which Doctor... | |
| | | |
By:
Nick Hollands, Hampshire, England
Date:
Wednesday 29 November 2006
Rating:
9
Bought this book. Lost it. *Had* to buy another copy (Thanks, Ebay!)

I'll try not to spoil too much...

A thoroughly enjoyable book. Elements of the Doctor's past, present, future and... sideways blended together to create a distillation of... Doctorness. Part of me wants to see some more stories of the 'n'th (or is it?) Doctor played out along similar lines, but another part remembers the second two Matrix films, and how they spoiled the nature of the first.

This book neatly takes elements from the old series (Most of the background), the EDA (Nice links to Seeing I, another favourite), and even the Doctor Who Magazine (Heh... TARDISes use 'Vworp' drive...), but doesn't let continuity restrict the excellent story.

'Continuity' is of course a relative term where time travel may be involved. The deliberate obfuscation of the temporal placement of the book is well performed and I think it adds a nice level of mystique to the Doctor's life story.

Old enemies, new threats, love, laughter and tears. This has got it all. Read it.
By:
Andrew M, Manchester England
Date:
Sunday 4 October 2009
Rating:
1
If your idea of fun is reading science textbooks then this is the book for you. This is the only one in the series I could not be bothered to finish.