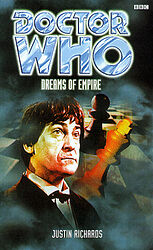 | | | |
| --- | --- | --- |
| | | |
| | Reviews for Dreams of Empire | |
| | | |
There are 4 reviews so far. To add a review of your own for this item, visit the voting page.
By:
David Layton, Los Angeles, United States
Date:
Thursday 10 February 2005
Rating:
6
The Star Trek trick of taking some historical society and putting it into outer space never works when the relationship is too obvious. Thus, the various Roman Empire analogues in this story are often painfully strained. The trouble is that the story could have been written without them. On its face, it is an interesting story, a bit of "Man In The Iron Mask" mixed with "Julius Caesar" and involving a dedicated lost battalion of robot warriors. I always prefer stories in which the Doctor just stumbles into a situation rather than deliberately goes about trying to fix one, and so that part of the story works well for me. It's just the damn Roman stuff.
| | | |
| --- | --- | --- |
| | | |
| | Base under siege - again!!! | |
| | | |
By:
Paul Speake, Wakefield
Date:
Friday 11 March 2005
Rating:
7
Straight out of season 6 this one - not bad but needed a spark which wasn't there. Justin Richards seems to have got his plot straight out of Plutarch. A good Jamie story, if you like that kind of thing.
| | | |
| --- | --- | --- |
| | | |
| | Sweet Dreams are not made of this | |
| | | |
By:
Trevor Smith, Nottingham, United Kingdom
Date:
Tuesday 21 October 2008
Rating:
6
Like the other reviewers have said, not a bad story but not anything great either. I found it strange when the Doctor takes sides. Most unlike the Doctor. Jamie & Victoria hardly feature.
| | | |
| --- | --- | --- |
| | | |
| | Dont we want the feel of the season? | |
| | | |
By:
Matthew David Rabjohns, Bridgend, United Kingdom
Date:
Monday 8 April 2013
Rating:
9
As for fitting in with season six, then this story is near flawless. Because Im not so up as the other reviewers on the "roman" aspect of this story, as Ive never learnt that much about anything to do with Rome, then maybe I give this a better mark than If I did know about Rome more. But as I dont, then I mark this for what I alone think of the story.

The Second Doctor here is so pleasingly like his screen persona, one can have seen the late great Patrick Troughton having a whale of a time with some of the dialogue in this story. Im sure he would have cracked up just like I did at the "I might have been a bit of silly billy" although I just hope this isnt a feeble witicism of the First Doctor! But it made me smile none the less.

What is also good is the build up of tension. Maybe Im just dumb but the ending took me by complete surprise, which is always good for a good story. When the man in the mask is not the man you thought he was at all. And also there are the few moments of horror peppered throughout the story too, and I found the death of Haden sad and maybe a little jolting. Sad I know, but I really liked the character!!

The only criticism I will share with one of the reviewers is the sore lack of Jamie and Victoria action. These two would have needed far better involvement in a TV adventure. But the Doctor is spot on, and the pleasing mannerisms all come thick and fast through the action of this novel. Overall, not a bad story at all. The characters are all believable and the VETACs are a nasty set of robots.

I love it when my favourite Doctor is done so well in written prose. I love to be reminded of why I liked his performance so much. Patrick was so much fun, and his act has always been my favourite portrayal of the Doctor. And this is a good choice for the 50th anniversary reprint. And on the very very high plus side, this keeps the swear words down to an acceptable single outburst. Many of these books suffer from such a high overdose of foul mouthed rubbish that they become as unreadable as many of the authors of this age. Thankfully Justin Richards kept it to one word. (Although it would never have been allowed in the classic series: one of the reasons I loved the classic series so much)

Yes, this could have fitted into season six with no help at all.