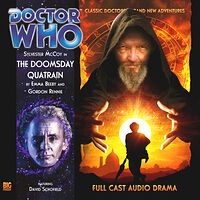 | | | |
| --- | --- | --- |
| | | |
| | Reviews for The Doomsday Quatrain | |
| | | |
There are 3 reviews so far. To add a review of your own for this item, visit the voting page.
By:
Matt Saunders, Buckinghamshire, United Kingdom
Date:
Thursday 8 December 2011
Rating:
7
a little confusing at times. However, I enjoyed it thoroughly and it's good to hear Sylvester again. :)
By:
Clive T Wright, St Lawrence, United Kingdom
Date:
Saturday 14 July 2012
Rating:
8
Using a tried and tested idea of a false world this is a solid story, the crocodile baddies however let it down a little, there just too simple. Otherwise an enjoyable story.
By:
David Layton, Los Angeles, United States
Date:
Saturday 27 January 2018
Rating:
7
The Doomsday Quatrain has low ratings here. It would be interesting to find out why. I myself was a little skeptical to begin with. Nostradamus is an over-rated figure historically speaking. This story deals with the issue of Nostradamus the seer quite well, so that we can bypass the whole prophecy matter. The story is a little derivative. It came out a few months after "The Rebel Flesh/The Almost People" was aired, and I don't know whether recording of the story was before or after the TV serial, but the fundamental technological idea is basically the same. Only the scale is different. The Crowe (Crow? Kro?), the crocodile baddies, are a bit dull as bad guys go, so we get a somewhat more interesting one in the greedy Brors. The standout performance here is David Schofield as Nostradamus. He strikes the right balance of OTT and pathos. Sylvester McCoy is Sylvester McCoy. Those who love his Doctor will love what he does here, and those who hate his Doctor will hate it.