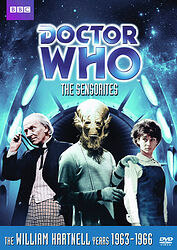 | | | |
| --- | --- | --- |
| | | |
| | Reviews for The Sensorites | |
| | | |
There are 2 reviews so far. To add a review of your own for this item, visit the voting page.
| | | |
| --- | --- | --- |
| | | |
| | A lot better than I originally thought.. | |
| | | |
By:
Matthew David Rabjohns, Bridgend, United Kingdom
Date:
Monday 23 January 2012
Rating:
10
Good acting.
Good characters.
Strong scripting.
Effective aliens, not inherently good or evil, quite human in fact.
The tardis team are brilliant, the four greats who started the whole thing off so well.
Far better than I thought now Ive watched it a few more times. Now its one of my favourite Will Hartnell tales.
Also I like Carole's chance to shine a lot in this one, and her relationship with William is so well done all the way through this tale.
Peter R Newman should have done another story for Doctor Who.
The Snesorites are really very well done for the time, and their husky muffled tones are slightly unsettling and creepy. And the first scene where the sensorites are seen is done fantastically for the time, they look quite creepy until theyre found out to not be wholly evil or good.
So this has to be one of the strongest of William's tales. It has it all, brilliant first class acting from all the cast, especially the fear in the guy who acts as John, he deserves a bafta for that performance!!!!!
By:
Trevor Smith, Nottingham, United Kingdom
Date:
Tuesday 24 January 2012
Rating:
5
This story gets off to a cracking start. The TARDIS landing on a spaceship with corpses, mind controlling aliens and then ...... There is 5 episodes of tedium as a thin plot is stretched ever further & William Hartnell stumbles on. The real problem is the Sensorites themselves, neither scary or interesting.
The DVD has a really good feature "Looking for Peter" in which Toby Haydock searches for the writer Peter R. Newman. Entertaining & surprising.