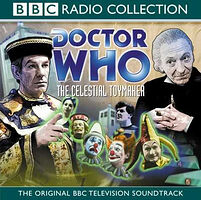 | | | |
| --- | --- | --- |
| | | |
| | Reviews for The Celestial Toymaker | |
| | | |
There are 2 reviews so far. To add a review of your own for this item, visit the voting page.
By:
David Layton, Los Angeles, United States
Date:
Thursday 22 June 2006
Rating:
7
Long considered one of the lost greats of Doctor Who, The Celestial Toymaker probably works better with the visuals than in pure audio format. Too much of it needs explaining, and much that does is confusing, such as the bits with the chairs and the dancing floor. Still, the idea is interesting, and I like the surreal Doctor Who stories in general (including The Mind Robber and Warrior's Gate). The Doctor Who format works very well for these kinds of stories.
By:
Matthew David Rabjohns, Bridgend, United Kingdom
Date:
Sunday 3 October 2010
Rating:
9
The Celstial Toymaker is clearly a departure from the norm for Doctor Who. But it is a departure that works very well indeed. ALthough it is very sad indeed that only the final episode is remaining in the visual cannon, you can catch the scale of the story from Peter Purves delivery of the very well written narration.

Michael Gough as well is very well cast as the Toymaker. His mix of charm and menace is completely spot on. The games he devises too are nasty and baffling. And the characters of the cards and the dolls and Cyril all make for a really creepy outting for the Doctor and the TARDIS crew.

The costume design too appears of a very high standard indeed. The clowns especially are rather unsettling and this makes for many memorable scenes. Whilst the constant game playing might for some be repetitive, for me it is nothing of the kind.

Its just sad that William Hartnell was getting so ill later on in his career in Doctor Who. It is more evident than usual, his absence from the bulk of the story here. And whilst his speaking double does a reasonable enough job at impersonating William, he is no William Hartnell. But its good he is back even just for the last episode. His usual presence is marked and brilliant. And his defeat of the toymaker is original and funny. This story deserves all the praise it gets. Overall it is never short of entertaining and creepy.