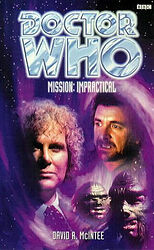 | | | |
| --- | --- | --- |
| | | |
| | Reviews for Mission: Impractical | |
| | | |
There are 6 reviews so far. To add a review of your own for this item, visit the voting page.
By:
Tom Lingwood, Broseley, Shropshire
Date:
Wednesday 18 December 2002
Rating:
3
Arrrrrrrrrrrrrgh! Mr McIntee what have you gone and done? I can't believe the guy who wrote some of my favourites such as The Shadow of Weng-Chiang, The Dark Path and The Face of the Enemy came up with this piece of rubbish.

Following his Doctor-less novel The Face of the Enemy, McIntee tries a novel featuring Comic Strip companion Frobisher. We also get appearances from Glitz, Dibber and the Ogrons. I think it's because of Frobisher the book is a letdown. Basing books on comic strips do not work and they should be left how they are.

The plot was uninteresting and I found it a bore. When reading some of Glitz's lines, I could hear Tony Selby saying some of them. I could only hear Colin Baker saying a couple of the lines but the others I couldn't.

I hope there will be no more Frobisher books. If McIntee writes a First Doctor book, I hope he doesn't include the Doctor's grandchildren John and Gillian.

Anyway, I hope McIntee's Rasputin book is better.
By:
David Layton, Los Angeles, United States
Date:
Saturday 6 September 2003
Rating:
3
I grant that McIntee intended to write a light, inconsequential book. That he has done. But much of the humor forces a strain on the reader's credulity. Also, McIntee has chosen to rely on the awful Baker duo portrayal of Glitz as a nincompoop rather than Robert Holmes' superior characterization of Glitz as a smart professional who enjoys being a thief.
| | | |
| --- | --- | --- |
| | | |
| | best 6th doctor story ever | |
| | | |
By:
tim, swiss
Date:
Monday 3 November 2003
Rating:
7
best 6th doctor story ever
| | | |
| --- | --- | --- |
| | | |
| | Too much continuity, but good fun. | |
| | | |
By:
simon, Bristol
Date:
Saturday 24 February 2007
Rating:
7
David McIntee says that this book sees the end of the continuity references that he wanted to do. Phew. It's rather over heavy with continuity, from the TV programme and the DWM comic strips. Taran androids, for instance, feature as an aside. All this tends to give the impression that he's trying too hard.

That said, I enjoyed the book. It has a sense of humour (which can't be said of all continuity-laden novels) and it has a cleverly worked through series of schemes on a number of different fronts. Frobisher funtions well as a character in the world of the TV programme (Big Finish have also shown this). The second Whifferdill was less welcome and doesn't really work as a character.

Definitely a good way to pass a few hours, though.
By:
Matthew David Rabjohns, Bridgend, United Kingdom
Date:
Friday 18 April 2008
Rating:
1
When I read the prologue of this story i thought, this is gonna be good...thing is to be truthful, only the prologue is that much good. The story steadily peters down into nothing but drivel. Even the inclusion of Glitz and Dibber cant raise this out of the trash can. And Frobisher might as well not have appeared in this story as he gets very nearly nothing to do at all all the way through. The ogrons are badly presented too, making this is a thorough let down indeed...
| | | |
| --- | --- | --- |
| | | |
| | Confusing and a bit pointless... | |
| | | |
By:
Max Allen, London, United Kingdom
Date:
Tuesday 19 April 2011
Rating:
3
it was mostly all a real mess, the conflict in the story didnt really seem all that necessary. The Doctor was OK. Frobisher was inbewteen, Sabalom glitz however was spot on.

your really not missing much by Not reading this one..