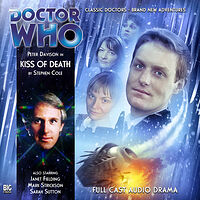 | | | |
| --- | --- | --- |
| | | |
| | Reviews for Kiss of Death | |
| | | |
There are 3 reviews so far. To add a review of your own for this item, visit the voting page.
| | | |
| --- | --- | --- |
| | | |
| | Strong start, soft middle, cool ending | |
| | | |
By:
Clive T Wright, St Lawrence, United Kingdom
Date:
Tuesday 14 June 2011
Rating:
8
Mixing up the plot line for one of the original team, risks sending old fans into a panic - how, what, you can't I cried, as suddenly realised what was happening.

However the fast pace, compelling plot quickly made me set this aside, as I was carried along by a great story. Kiss of Death is a great story, my only negative is the hired hit men, nothing original and they seemed to run out of good lines towards the end. However I loved the ending for the bad guy, very good, sent a shiver down my spine.

Still overall a good enjoyable story, worth listening too.
| | | |
| --- | --- | --- |
| | | |
| | More developement for cool Turlough | |
| | | |
By:
Matthew David Rabjohns, Bridgend, United Kingdom
Date:
Friday 17 June 2011
Rating:
10
Good to hear Mark Strickson getting another really decent story. Hes being far well better served in this audio series, especially in these last two trilogys. This story is excellent for a whole lot of other reasons too. It has all the companions being strong and getting a very good chunk of the script too. Peter Davison again is brilliant and flawless in this very atmospheric production. Love Janet Fielding as Tegan, and again here she is particularly meaty and fantastically written into the story, what with her escape from those thugs that are seeking to open the Vault. And Sarah Sutton is her typical brilliant self too.

Its nive to hear some more of the back story for Turlough too. Deela is a real manipulative little minx, and the other characters are your typical yet brilliant morons of the highest order. The sound design too once is again is highly effective, you really feel youre in a freezing hole somewhere. The Morass is a particularly effective and interesting alien thing too. All the elements of the script come together very strongly, better than Stephen's earlier The Land of The Dead by far.

And we get the return of the gravity wells too, from his second audio for BFP, from The Apocalypse Element. And here they aree utilised and explained far clearer. But still the best factor of this story is Mark. A great character indeed, and his acting here is particularly good. This continues the high note set by Heroes of Sontar, and One looks forward to whats to come in the next story, Rat Trap...
By:
David Layton, Los Angeles, United States
Date:
Sunday 20 July 2014
Rating:
6
"Kiss of Death" was rather ho-hum for me. It is nice to have a Turlough-centered story. Cole does a nice job of filling in some background and giving Turlough both something of a normal past life and something of a strange one. The plot itself seems to me rather one-dimensional. The baddies come off as stereotypical, and the plot twist was rather obvious. The acting and the sound design are very good, except the voice for the Morass is so altered that through much of its dialogue one finds it very hard to tell what it is actually saying.