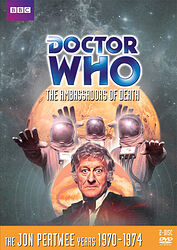 | | | |
| --- | --- | --- |
| | | |
| | Reviews for The Ambassadors of Death | |
| | | |
There are 2 reviews so far. To add a review of your own for this item, visit the voting page.
By:
Trevor Smith, Nottingham, United Kingdom
Date:
Thursday 15 November 2012
Rating:
9
Season 7 is we're I came in & AOD is my favourite 3rd Doctor story so I was really looking forward to seeing this in full glorious colour.
Like Invasion of the Dinosaurs the work the RT has done on this story is staggering. If your familiar with the VHS release you'll know the problems they had to work with & they have worked miracles. Splendid chaps all of them.
The story is a tightly directed exciting story that feels very modern compared with the black & white era.
Pertwee is a very James Bond Doctor & UNIT bring a real sense of danger & excitement.
The extras on this DVD are a bit thin apart from a good "making of" documentary.
The commentary is good but a bit sad featuring, among others, the late Caroline John. But this is a good tribute to Liz Shaw & Caroline.
Highly recommended.
| | | |
| --- | --- | --- |
| | | |
| | Story excellent, restoration very bad | |
| | | |
By:
Matthew David Rabjohns, Bridgend, United Kingdom
Date:
Tuesday 27 November 2012
Rating:
5
I thought Planet of the Daleks episode three was excellently recoloured, but what has happened since with Invasion of the Dinosaurs and this story? Id rather watch it all in black and white and have decent quality rather than a very patchy colour job that irritates the hell out of me. And yet again, it happens to be on one of my all time favourite Doctor Who stories again. Very very much a let down on the recolouriation front. Makes this story hard to watch now, much preffered the largely black and white video version. I hope it isnt going to be the same for the Mind of Evil too when it comes out next year. But this job is sadly woeful and mars what is otherwise one of my all time favourite Doctor Who adventures of all time. So Id give the story itself 10 out of 10 but the restoration 0 out of 10.Only episode one is decent and up to the ordinary BBC high standard. The rest is really really annoying.