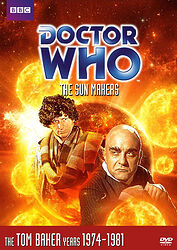 | | | |
| --- | --- | --- |
| | | |
| | Reviews for The Sun Makers | |
| | | |
There are 2 reviews so far. To add a review of your own for this item, visit the voting page.
By:
Matthew David Rabjohns, Bridgend, United Kingdom
Date:
Wednesday 27 July 2011
Rating:
10
The Sun Makers is a story that prooves that you dont need all out action to have a thoroughly excellent story. The Sun Makers I feel is perhaps Rob Holmes most brilliant story, full of his trade mark expertly written characters. But here there is just some added dimension that makes the whole story sparkle no end. It really is no wonder that Louise Jameson said that this story was her favourite. It has so much amusing stuff floating around, not least of all the quite brilliant mix of the Gatherer and The Collector, two of the most over the top and yet excellent villains to ever grace the Doctor Who universe.

And the taxed citizens go through a nice change about, they start out being rather weak and tepid and all mouth and no action, but then the at last get some back bone and go against the grain of the enforced system now imposed on Pluto. That the planet should itself be now thoroughly taken over and made habitable is a really interesting notion.

The Blood sucking leech, in the form of a Uxarian is brilliantly brought to vivid life and is such a well rounded character. Nicely evil and sadistic in how he loves to watch the torture and death of all of his employees! A real marvel of a character. This story really does have a bold point: taxes taxes taxes. One of the biggest bains of modern society I know. And Rob definitely lets us know how he feels about such things in this delightful tale that is my favourite Tom Baker story of all.

Louise jameson is on fine form, she doesnt scream, she just is fierce to the fore. All the more spice to an already delicious tale! And theres no real need to mention Tom Baker at all really, except that he's his usual brilliant bold and bright self...
By:
Trevor Smith, Nottingham, United Kingdom
Date:
Friday 26 August 2011
Rating:
9
The Sun Makers is one of the very best 4th Doctor storys complete with a womderful, witty script by the late great Bob Holmes.
Sparkling OTT performances from Henry Woolf as the collector & Richard Leeech as Hade make this a must see.
If you have not seen this you are in for a teat, if you have remind yourself of a gem.
The DVD has a couple of good items "Running From The Tax Man" is an indepth making of Docu & "The Doctor's Composer part Two " continues an in depth look at the work of Dudley Simpson.