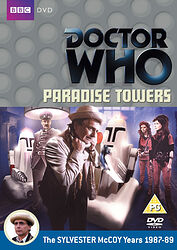 | | | |
| --- | --- | --- |
| | | |
| | Reviews for Paradise Towers | |
| | | |
There are 4 reviews so far. To add a review of your own for this item, visit the voting page.
By:
Matthew David Rabjohns, Bridgend, United Kingdom
Date:
Monday 11 July 2011
Rating:
10
Paradise Towers always seems to be one of those very badly recieved Doctor Who stories. But I for one am not going to lambaste a story that is genuinely execellent in every respect.
The First major success factor of this story is Sylvester McCoy, his Doctor is such a different one from all the previous Doctors. He's at once more mysterious, more deep and more unpredictable. He actually may just be the perfect mix as the Doctor. He gives a truly alien feel to the character.
The second factor is Bonnie Langford as Mel. She's given her most meaty script segment here, and she's not just the out and out screamer many seem to think she is. She has guts here, and her handling of Pex is brilliantly done. Mel Bush is a brilliant character!
Those old ladies are suitably disarming, in the fact that they truly do seem genuinely sweet until that dark as hell twist at the climax of episode two. Miss Spriggs especially is execellent as Tabby.
The Kangs too are brilliantly realised. They are such wonderfully OTT girl gangs, all the actresses though bring such heart and feeling to the roles that really electrifies the story no end. The fact that all the people in the towers come together at the end of the story for me is a lovely touch.
And some might lambaste Richard Briers for his totally OTT take on the Chief Caretaker, but I love his approach. Its a serious source of comic relief amoungst the darker elements of the script. And his rendition of Kroagnon once in the Caretakers body is very plausible, As I do believe a voice would be rather distorted if its from a mind thats just inhabited a new body!
So, I really cant see anything at all wrong with this story. Theres so much imagination rampant through the tale, its engaging and different. Its packed with first class acting talent and its one of the very best Doctor Who stories ever.
It boasts it all: comedy, action, thrills, scares. Brilliant stuff.
By:
Trevor Smith, Nottingham, United Kingdom
Date:
Tuesday 2 August 2011
Rating:
4
There is so much to the story that should make this a real classic, futuristic tower block, gangs of feral young girls, killers machines, but it is let down so badly by many things.
Richard Briers terrible overacting, some hammy acting, terrible props ie the thing in pool & the cleaners for starters.
Sylvester McCoy does his best to rise above this and he has some nice moments, rasing his hat to a machine for the start.
The DVD extras are not much. Horror on the high rise is a standard making of doc while Girls! Girls! Girls! is an intresting chat between 80's female companions Sophie Aldred, Janet Fielding & Sarah Sutton.
By:
Tarquin Summerbutts, Paris, France
Date:
Wednesday 18 January 2012
Rating:
10
Not as bad as people say. Actually very good. Except Bonnie "I am on the stage" Langford, everyone is very good.
By:
simon blackwell, rotherfield, United Kingdom
Date:
Sunday 17 August 2014
Rating:
1
And that's just Mark Ayers music. this story so far is the worst I've had the misfortune to watch beating by a country mile, gunfighters, castrovalva and Delta and the Bannermen. Shocking, hopefully none of the remaining 3 McCoy stories I am yet to watch will sink to such depths