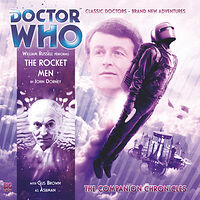 | | | |
| --- | --- | --- |
| | | |
| | Reviews for The Rocket Men | |
| | | |
There are 2 reviews so far. To add a review of your own for this item, visit the voting page.
| | | |
| --- | --- | --- |
| | | |
| | Another dazzlingly evocative tale | |
| | | |
By:
Huw Davies, Taunton, United Kingdom
Date:
Thursday 12 April 2012
Rating:
10
The Companion Chronicle (CC) range has been a mainly very strong addition to Big Finish's Doctor Who line, and by far the stronger audios have been those from the eras for which the Doctor actors have died - that being the 1st, 2nd and 3rd Doctors. Of these it's my opinion the 1st Dr. audios are the best, as they conjure up images of an era where the stories were extremely inventive and anything seemed possible.

'The Rocket Men' is a great example of an inventive story. Firstly the audio medium suits its plot wonderfully, as one wonders whether even today's budgets would stretch to some of the special effects required (floating cities, space manta rays, the titular jet-pack-wearing Rocket Men). Secondly it is a simple brilliant plot idea, simple at a glance but when it gets down to it this a story full of layers. John Dorney (who has also made acting appearances in the BF Dr Who range) has crafted a story which entertains and amazes.

The character of Ian, played by William Russell, is the narrator and drives the story forward. For this CC there is no framing story, so Ian tells it simply as a past memory, which cans the need for ancillary story which is often dull. Russell is a fan favourite for audios and it's hard to see why - he has such enthusiasm and delivers his lines with his warm, rich voice. He is a such a good actor it is unreal, God knows how he isn't more famous than he currently is.

The "second voice" for this CC is the Rocket Men's leader, Ashman (played by Gus Brown), who is portrayed expertly and angrily - the perfect villain. There is also a luscious soundscape, as with most CCs. All in all this is another extremely strong entry into the CC series.
By:
Clive T Wright, St Lawrence, United Kingdom
Date:
Sunday 7 October 2012
Rating:
8
William Russell has a great tone of voice and is able to create a world of characters. Rocket man is a good story set in a vivid world in the clouds.

Building up to Ian's battle and rescue in the clouds, which is the highlight of the story. The niggle for me was the amount of times we jumped back and forth in the plot, which lost a few points for me. Otherwise it's a great production.