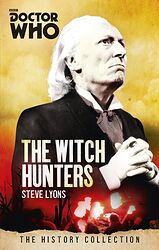 | | | |
| --- | --- | --- |
| | | |
| | Reviews for The Witch Hunters | |
| | | |
There are 9 reviews so far. To add a review of your own for this item, visit the voting page.
By:
James, Bristol, England
Date:
Wednesday 26 June 2002
Rating:
9
Lyon's dark, sombre take on the Hartnel historical adventure is top of the polls, and now I see why. I loved everything about this book - the trick was keeping the TARDIS regulars consistent with the series, but making everything else more 'mature'. If I had a slight quibble, it is that the First Doctor (one of my favourites) does not get much page space, but this is outweighed by his role in the spine-tingling epilogue. Highly recommended.
By:
Simon, Sydney, Australia
Date:
Tuesday 16 July 2002
Rating:
8
An excellent story, well told. The historical setting was protrayed perfectly. The ending packs quite an emotional punch. Highly recomended. This book is available for trade at www.sf-books.com
By:
David Layton, Los Angeles, United States
Date:
Saturday 6 September 2003
Rating:
9
What more can I say? This book is superior in nearly every way to most the other Doctor Who novels. Lyons has done his homework and writes convincingly about the actual events of the Salem withch trials. The Doctor and his companions are embroiled in a realistic way. The companions are characterized in a mature fashion. Ian, especially, comes to life as thoughtful and compassionate. Read this one.
By:
Stephen Carlin, Northern Ireland
Date:
Wednesday 3 March 2004
Rating:
7
I thoroughly enjoyed this book. It was well-written and was an interesting and terrifying venture into history for the our time travelling heroes.

Only one thing marred the book for me - the fact that it rips off Arthur Miller's The Crucible. I enjoyed the book but was not sure how much could be owed to Lyons and how much could be owed to Miller.
By:
Matt, England
Date:
Wednesday 25 August 2004
Rating:
10
A brilliant novel which captures the fear and anger, and other emotions of the witch trials setting very well- I had trouble putting this book down.

If this story had been shown as part of the T.V series, it would probably be considered a "model" historical Doctor Who story.

Excellent Book- Highly recommended!
By:
PJ Johnson, Hoddesdon, United Kingdom
Date:
Friday 18 February 2005
Rating:
10
The Witch Hunters is, without a shadow of a doubt, the best piece of Dr Who fiction I have ever read. I have been a fan of Steve Lyons' work ever since Killing Ground, his second contribution to the Virgin 'Missing Adventures' series, and in The Witch Hunters, he achieved something quite incredible - he produced something even better.

Lyons does a superb job of recreating the setting, attitudes, characters and events of the infamous Salem witch trials of 1692. Each and every character is convincing and thoroughly engaging, as are their relationships with the Doctor and his companions, particularly the troubled friendship between Susan and Mary Warren. Susan's character is developed wonderfully throughout the book, as her concrete sense of right and wrong forces her to disobey her grandfather and put herself and her friends in great danger. The idea of Susan possessing telepathic powers, as introduced in the TV story The Sensorites, is also developed and plays a major part as the story unfolds.

In fact, while the character of the First Doctor is excellently portrayed and plays a vital role in the story's sledgehammer ending, the main characters in the story are undoubtedly Susan and Ian, both of whom are superbly written and developed throughout the book.

The Witch Hunters is a gripping read, and incredibly powerful through it's depiction of real historical events. I finished the book in three days, having found it impossible to put down, and after reading the incredibly powerful and emotional ending, I found myself tempted to turn back to page one and begin again. I resisted the temptation, however, and moved on to Lyons' earlier PDA, The Murder Game, which so far has not disappointed.

Quite simply, any Who fan must read this book, especially those who feel, as I do, that the historical stories of the Hartnell era were classics in their own right, and should never have been abandoned. Had The Witch Hunters been amongst those original television stories, I have no doubt that it would now be considered one of the greatest stories of them all.
By:
Trevor Smith, Nottingham, United Kingdom
Date:
Monday 12 May 2008
Rating:
8
An intresting outing for the 1st Doctor. Some intresting ideas & a well told tale, but(as in the TV series) Susan is very irritating.
By:
Chris Arnold, Bundaberg, Australia
Date:
Monday 7 May 2012
Rating:
10
Steve Lyons is a genius. Another excellent read and hard to put down. The TARDIS leaving half way through the story was a real cliffhanger like moment. The hardships of the TARDIS crew are keenly felt and all the characters have strong motivation and are integral to the story. Highly recommended.
By:
C G Harwood, Dunedin, NZ, New Zealand
Date:
Monday 17 July 2023
Rating:
9
Wonderful, absolutely wonderfully. If your gonna start reading this series then I can't recommend this one more.