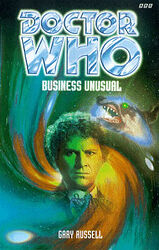 | | | |
| --- | --- | --- |
| | | |
| | Reviews for Business Unusual | |
| | | |
There are 5 reviews so far. To add a review of your own for this item, visit the voting page.
| | | |
| --- | --- | --- |
| | | |
| | great depiction of the 6th doctor | |
| | | |
By:
Evan Hecht, New York
Date:
Tuesday 18 March 2003
Rating:
10
If you are a fan of the 6th Doctor, you ought to enjoy russell's novel. It remains true to the flavor of the series. Whereas some Dr. Who past adventures from BBC books venture outside the idiom of sci-fi adventure narrative style established by the series and attempt a more
| | | |
| --- | --- | --- |
| | | |
| | Who clears up the mess...? | |
| | | |
By:
Stephen Carlin, Bangor, Northern Ireland
Date:
Friday 16 July 2004
Rating:
5
The Doctor has been helping some friends, members of the Brighton police force, put paid to a scheme by the Master (is Gary Russell planning a prequel?). To finalise the erasure of the Master's work the Doctor requests the services of a computer programmer. Time has passed since his trial, and the Doctor has been trying to avoid ever meeting Melanie Bush (Mel). As far as the Doctor is concerned, Mel is part of a potential future which also includes becoming the Valeyard -it is a path he hopes never to follow. Of course, the programmer appointed to assist the Doctor turns out to be Mel.

Other events are also unfolding: Trey Korte, an American staying with the Bush family, begins to develop psychokinetic abilities - something which interests SeneNet, a company planning to release a revolutionary new games console; SeneNet are sponsoring a fast food company - little plastic toys are being given away with meals; the Brigadier has been asked to investigate SeneNet - and has disappeared; the partially-eaten corpse of a Japanese businessman is found near SeneNet; and people working in various computer centres are experiencing strange personality changes.

The Doctor sets out to investigate SeneNet and soon discovers that someone else has been mopping up after UNIT for many years now.

There are times when the book is quite enjoyable, but most of the time the book wanders off and becomes preoccupied with Gary Russell's mission to fill in the blanks in the series' history. I do applaud his attempts to create a cohesive back story (the book features elements which first appeared in "The Scales of Injustice" and other elements reappear in "Instruments of Darkness") but he seems to have missed the whole point of a really good book - telling a good story and telling it well. He has the potential to tell a story well. "Business Unusual" is not only bogged down by heavy dollops of continuity, it is also bogged down by taking bits and pieces of other Doctor Who stories. Its as if Mr Russell has used a recipe "a spring of The Invasion, a pint of Terror of the Autons, a pinch of Inferno...etc". Legacy remains his best work, although there is no guarantee that he can turn his hand to good "original" stuff (as the dire Invasion of the Cat-People would testify).

In short, if you don't like Gary Russell's other books this will not change your mind, but it does serve its purpose in introducing Mel as the Doctor's new companion.
By:
David Layton, Los Angeles, United States
Date:
Thursday 10 February 2005
Rating:
6
One of the loose ends of the TV series that the Virgin Missing Adventures books never got to tie up was how the Doctor met Mel. Gary Russell has taken the opportunity to clarify that point in "Business Unusual," his sequal to "The Scales Of Injustice." Mel's brief was never given enough detail in the series, for various reasons, which left her an unsatisfactorily developed character throughout her period in the series (she is much better managed in the CD adventures). Though we get to see some of Mel's homelife, including clashes between her rather progressive social views and her parents' conservative ones, she still does not quite come through as a full character in this book. Russell is now getting away from sticking too closely to the TV series in style, giving himself more novelistic opportunities to develop characters and complexify scenes, yet this one is very much a Doctor Who story and could easily have been filmed as one. The bad guy is a stock bad guy, megalomaniacal and misguided. The Doctor is suitably outraged at appropriate moments. The side characters get themselves into fixes and the Doctor must rescue them. Entertaining at its level, it still feels as though more could have been done with the basic premises.
By:
Matt Saunders, Buckinghamshire, United Kingdom
Date:
Thursday 12 January 2012
Rating:
10
At last we get Mel's story of how she met the Doctor, and it's very good. I won't give too many spoilers away, but the novel is a very satisfactory beginning for Mel. It's also good to have a nice story with UNIT in it. I very much recommend everyone read this, so that we can fully appreciate Mel. Then people should go and listen to the audio's that she's been in, and realise what a good character she could have been on TV.
By:
Trevor Smith, Nottingham, United Kingdom
Date:
Friday 8 November 2013
Rating:
8
Not exactly an unusual story but there's no denying it's a well written tale that will appeal to fans like my self who like the PDA with lots of past references.
It's nice that there's now an explanation on how the 6th Doctor & Mel first met and it's nice to read some of her family & her backstory.
All in all a highly recommended story.