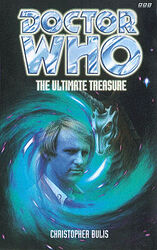 | | | |
| --- | --- | --- |
| | | |
| | Reviews for The Ultimate Treasure | |
| | | |
There are 2 reviews so far. To add a review of your own for this item, visit the voting page.
| | | |
| --- | --- | --- |
| | | |
| | On a quest for treasure... | |
| | | |
By:
C. J.'s Dreamer, USA
Date:
Tuesday 6 August 2002
Rating:
8
The Ultimate Treasure combines classic Dr. Who with the treasure seeking adventures of old. Christopher Bulis captures the characters of the Fifth Doctor and Peri with grace and accuracy, and you can just see them on this adventure. Also, the other characters may be seen as typecasted, but Bulis adds touches to them that make them unique enough to be true participants in the plot and not just background.

With plenty of twist and turns and a moral at the end, the plot is fun and imaginative with just enough hardship in it to keep it from being just a frilly story. There are many potentially fatal challenges/puzzles in keeping with the spirit of other such tasks found in many Dr. Who episodes. Adding a moral quest along with a physical one, the story is true old BBC televison Dr. Who, but it takes advantage of being a written work and thus delves deeper than could be done by means of a television performance.

For those of you who like the newer gloom-and-doom, moral-twisting, dark style that many of the newer Dr. Who novels have adopted, you many not like this book. For those of you looking for a reprieve and find yourself yearning for a new story but in the old spririt of the Dr. Who television series (where you still like the Doctor and his companions at the end of the story), then the Ultimate Treasure is the book for you.

All around, it is a fun adverture story and fairly light reading. The only thing I have to say bad about the book is that it needed one more proofreading before it hit the presses.

Take Care and Keep Reading!
By:
David Layton, Los Angeles, United States
Date:
Friday 12 March 2010
Rating:
6
Doctor Five and Peri arrive at a supermall in space and shortly get forced into going on a quest. Christopher Bulis rather likes quests. The plot basically follows along the lines of "The Five Doctors." We have several parties converging on the same super-secret object that will grant its obtainer an impossible dream. Of course, the treasure is not what it seems. Bulis also likes to get the female companions out of the action, so Peri spends a large part of the novel captive to an outer space mafia goon. For genre writing with the emphasis on generic, Bulis is the man.