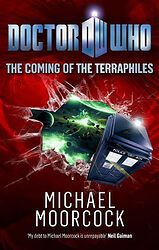 | | | |
| --- | --- | --- |
| | | |
| | Reviews for The Coming of the Terraphiles | |
| | | |
There are 4 reviews so far. To add a review of your own for this item, visit the voting page.
| | | |
| --- | --- | --- |
| | | |
| | A (Not So) Delightful bit of Nonsense | |
| | | |
By:
Adam Regula, Horseheads, NY, United States
Date:
Wednesday 9 March 2011
Rating:
6
I really, really wanted to like this book more. I have been a huge fan of Michael Moorcock for years, love the Elric series, and was very excited to head he was doing an 11th Doctor Novel. Almost all of the new series novels I wish were longer... this one was making me wish it was shorter. The book drags on with allot of unnecessary detail about things which are more or less Alice in Wonderland style frivolous nonsense. This book does come off as The Doctor being shoe horned into an Eternal Warrior novel. It did have some good points but they kind of drown in a too - slow plot and the odd characters.

Bit of a let down, sorry.
By:
Stefan Cole, Halesowen, United Kingdom
Date:
Friday 18 March 2011
Rating:
5
Having been a fan of Moorcock for years, I grabbed this book from the supermarket shelf as soon as I first saw it. I was really interested to see how Moorcock handled the Doctor Who genre, and couldn't wait to get home and start reading.

When I had finished, I lent the book to another Moorcock fan and when he had read it, discussed it with him.

We both agreed that it could have been better. It seems that Moorcock has attempted to merge two different universes, the Doctor Who universe and his own. This leads me to suspect that Moorcock is not thoroughly versed in the intricacies of the Whoniverse. It feels wrong that Judoon should play games, and Frank/Freddie Force and his Antimatter Men sound like something from a kids cartoon, not Doctor Who. The whole thing just didn't feel right.

This book also has Matt Smith's 11th doctor and his companion Amy Pond, which unfortunately wasn't captured satisfactorily by the author. Having read many Doctor Who books, I often find that the book captures the mannerisms of the characters so well that you can really imagine the actors
saying those lines. It seems that this book didn't quite manage that, and in most cases, it could have been any Doctor and any companion.

Having said that, for anyone who doesn't know Doctor Who very well, this is a gripping read, in which the whole universe is at stake and seconds from annihilation, a scenario that works for The Doctor.

I don't think there is any Doctor Who book that should be avoided, but if you are a die-hard fan who knows everything there is to know about Doctor Who, then you will find this book hard to swallow.
By:
Patrick Alexander, Bellevue, United States
Date:
Saturday 9 July 2011
Rating:
4
Sadly Disappointing
By:
Trevor Smith, Nottingham, United Kingdom
Date:
Tuesday 24 January 2012
Rating:
6
I was really looking forward to this. Michael Moorcock writing a proper Dr Who novel. It's strarts off really well. A group of colonists on a future world wanting to be posh Brits but not quite getting it right. Lots of nice cricket references and almost Douglas Adam' s style but after a good start the story goes nowhere and meanders into total whimsy with no idea what to do. A good start but a real disappointment in the end.