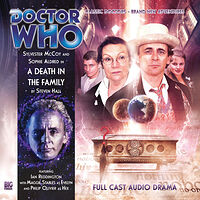 | | | |
| --- | --- | --- |
| | | |
| | Reviews for A Death in the Family | |
| | | |
There are 3 reviews so far. To add a review of your own for this item, visit the voting page.
| | | |
| --- | --- | --- |
| | | |
| | Laugh, cry, edge of your seat - the best | |
| | | |
Death in the family has to be one of the best stories for a long time. The word master is perhaps one of the most crazy, fun and clear monsters for a long time.

I dont want to give too much away but have already listened to this three times. One of my all time best from big finish.
| | | |
| --- | --- | --- |
| | | |
| | You MUST listen to this masterpiece! | |
| | | |
By:
PJ Johnson, Hoddesdon, United Kingdom
Date:
Saturday 23 October 2010
Rating:
10
Wow.

Just... wow.

A Death in the Family is without a doubt one of the cleverest, most enjoyable stories Big Finish have ever produced.

The returning Word Lord is wonderfully played by Ian Reddington, who would have easily stolen the show if it weren't for the equally stunning performances of Sylvester McCoy, Maggie Stables, Philip Olivier and particularly Sophie Aldred, who clearly relishes the emotional depth of the script and turns in the performance of her life.

The structure of the play is intriguing, essentially separating our heroes and really giving each character a chance to shine, before the twisting, turning narrative draws them all together again for the ingenious, dramatic and poignant final episode.

I honestly cannot fault this story. Not only does it work as an incredibly satisfying piece of science fiction in its own right, but it also finally resolves the Cassie/Evelyn/Hex storyline which has been hanging over the Sixth and Seventh Doctor adventures for almost ten years - talk about a slow burner of a story arc! I was really worried that when they did finally tie up all the loose ends I would be disappointed, but thankfully I couldn't have been more wrong.

Oh, and if you survive the final scenes without shedding a tear, you are certainly more of a man than I!

More of the same please, Mr Briggs, and many more scripts from Steven Hall while you're at it!
By:
David Layton, Los Angeles, United States
Date:
Tuesday 29 October 2013
Rating:
8
"A Death in the Family" is another of the Big Finish tying loose ends stories that seem to be the range for post 2010 audios. The loose ends in this case are whether Hex will continue travels with the Doctor, what happened to Evelyn, and whatever became of the Word Lord? Despite having this mopping up brief, the story still works brilliantly on its own. Basically, the Word Lord is back in town, and in this case he has the whole of London to play Scrabble with. However, the question is how did he get back? Steven Hall has built into the plot a complicated, devious, and self-referential plan, all the while keeping it hidden in plain sight until the latter stages of episode 3. Similarly brilliant is a bit of plotting that allows for listeners to get a seemingly divided story with a Hex episode and an Ace episode stuck in the middle, but have the division make sense in terms of plot. Evelyn gets a hero's sendoff in her quiet English way at the end. All in all, the story is an enviable piece of plotting. There are a couple of loose ends, though, all involving the second, older 7th Doctor, how he got in the sarcophagus and how he inherited the Handivale. Food for a future story perhaps? The culture of the planet Perigine also seems to me to be a bit clichéd medieval-religious in type without enough development. That aside, this is an excellent story the holds up well on repeated listening.