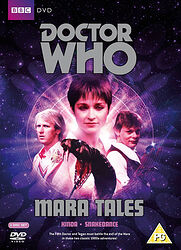 There are 2 reviews so far. To add a review of your own for this item, visit the voting page.
| | | |
| --- | --- | --- |
| | | |
| | Two of the very best stories in Whodom | |
| | | |
By:
Matthew David Rabjohns, Bridgend, United Kingdom
Date:
Wednesday 9 March 2011
Rating:
10
These two stories are excellent in different ways.

Kinda has the scariest moments of any Doctor Who in the original series, Tegan's dream scape is brilliantly done, with everything pitch black and the characters she meets within her dream really are creepy as hell. The acting all round within this very different Doctor Who tale is impressive too, particularly Simon Rouse who gives a very meorable performance as the unstable Hindle. And here in this story Matthew Waterhouse also prooves that he is not half as bad an actor as many people seem to think. This is far more psychological than any other story before or after in Who history too. And despite that rather silly snake at the end (which needless to say I still rather like actually!) the plotting is original and disturbing. Roll over Nightmare on Elm Street, learn a thing or two about the facts of what scary really means. It isnt all about slashing and blood and guts you know. Its all about the delivery from the actors. There arent any weak characters here, even the mute Kinda are all felt and portrayed very sympathetically. So this marks as one of the best stories of Peter Davison's era.

Snakedance may not quite be as original as Kinda, but the set design, the acting again, especially from Janet Fielding all help to make this story yet another brilliantly done story. And its good that this sequel is totally different from the first Mara story. The cliffhanger to episode one must rank as one of the best in the shows history. The first time i watched this when I was younger it nearly made me wet myself. Peter Davison too here is at the height of his powers. And his role for once is more interesting in that he has to contend with suych a bunch of blinded idiots. All of the supporting cast too are on top form, with a very good performance from new boy Martin Clunes, rather less silly and rather more understated than most of his other roles which followed on from this. And the snake here is far better than in the original Kinda.

Both of these stories are better for the fact that they rely more on brilliant storytelling rather than just army violence or crude fisticuffs. Here you have to use your brains a bit, which is always a good thing for TV. These two stories are a credit to the production team and to Chris Bailey. Its great to see he's adapting a lost story for big finish too, I look forward to that with the keenest pleasure. Kinda and Snakedance rank within my top ten stories of all time.
By:
Trevor Smith, Nottingham, United Kingdom
Date:
Wednesday 6 July 2011
Rating:
9
These two tales have long been held in high regard by Dr Who fans and rightly so.
They are full of imagination, wonder & surprise. And they are at times genuinely creepy, particularly Tegan's dream/nightmare sequences.
The acting is spot on with top marks to Simon Rouse as Hindle, surely one of the best ever guest acting spots in Dr Who history. Richard Todd as a man who has lost the plot is also excellent.
With the added CGI extra of a new snake this is near perfection.
The only let down is the poor sets on both story's. The jungle is just never convincing. Just think how good the jungle in Planet of Evil was & that was 10 years ago.
Both DVDs have excellent "making of" documentaries as well as lots of other goodies.
Highly recommended