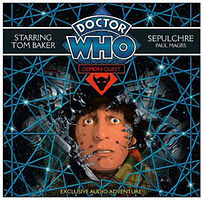 | | | |
| --- | --- | --- |
| | | |
| | Reviews for Demon Quest: Sepulchre | |
| | | |
There are 2 reviews so far. To add a review of your own for this item, visit the voting page.
| | | |
| --- | --- | --- |
| | | |
| | Excellent clima to a brilliant series... | |
| | | |
By:
Matthew David Rabjohns, Bridgend, United Kingdom
Date:
Friday 24 December 2010
Rating:
10
This isnt like the slight letdown to the last series of five audios. Tom Baker gives his best in a far more acceptable and different climax to this run of five stories.

The reliance on fewer characters again pays dividends. They have more chance to shine and the actors get more of chance to really get their teeth into the roles.

The plot again isnt too over the top again either. This is a usual bit of Paul Magrs brilliance. The reliance on clarity and the story being easy to follow has always been a good trait of this writer.

And its a surprise to hear the Hornet's back again. One was totally surprised by the sudden appearance of them half way through this last tale. Although, to be totally honest one wasnt beyond the point of thinking those nasty little things might wiggle their tails again sometime in the future in one of these series. And for once it isnt stupid. The hornets are a deliciously nasty little swarm.

And what I like is the fact that the three main stars all still gel together so very well indeed. They sound like a real family. And the climax to the tale is genuinely funny and silly, a great end to the second run of five stories to feature Tom Baker. I really do hope their is a third very soon.

And I wonder if it might come to pass that that Demon might rear its ugly head again too? Be brilliant if it does...because some aspects of just who this demon is is untold.

Richard Franklin at last gets to do the lead narration. I always thought he was really competent and a really easy narrator to listen to. And his acting hear is excellent as ever.

Paul has captured the Tom Baker period very well indeed. I want the BBC to make sure more and more of these series come about in the very near future. Ive missed Tom's Doctor, and its great he's back in all his unrefined brilliance. Its as if he has never been away. I have been totally satisfied with this whole DEMON QUEST season. Its one of the best ever....
| | | |
| --- | --- | --- |
| | | |
| | Dull ending to the series | |
| | | |
By:
David Layton, Los Angeles, United States
Date:
Wednesday 1 April 2015
Rating:
6
"Demon Quest" finally and at long last comes to an end. While decidedly better than "Hornets' Nest," it still has too many of the characteristic flaws of Magrs' writing. As the payout episode, it is kind of low key. The demon has been trying to kidnap the Doctor and get him to Sepulchre. That leads us to believe that this will be an awe-inspiring place. In fact, it is a dull box in space with a bunch of equally dull caves beneath. Magrs still writes so as to downplay older Doctor Who characters and play up his own inventions. Thus, the real villains to this piece should be no surprise. The whole plan is so elaborately overdone compared to what they want to accomplish that it seems hardly worth the wait. And once more Mike Yates is utterly useless, spending half the episode pinned to a rock because of vertigo. It is typical of Magrs to supply stupid ways to resolves problems that his own plot creates. Why does Mike get vertigo? The only reason is so he will not be able to rescue the Doctor, which he otherwise quite easily would have. All in all, it is just disappointing given its start.