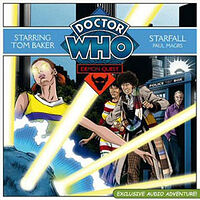 | | | |
| --- | --- | --- |
| | | |
| | Reviews for Demon Quest: Starfall | |
| | | |
There are 3 reviews so far. To add a review of your own for this item, visit the voting page.
By:
Matthew David Rabjohns, Bridgend, United Kingdom
Date:
Thursday 9 December 2010
Rating:
10
One has to wonder how that Paul Magrs bloke can keep on churning out these brilliant stories, whether it be for the BBC or BFP. Some people just know how to write brilliantly all the time.

Yet again, simplicity is rife and the story again is so easy to follow. The score is definitely american, and the acting is no worse than one has to come to expect from these single episode stories.

Tom Baker is getting better and better. Richard Franklin gives stirling support, and Susan Jameson is her usual whimsical Wibbsey self. And here within this tale the set pieces are truly fun, and yes, truly like they were out of a comic book.

The villain is well portrayed, and still the corpses are mounting up, and one still doesnt know just what this creature truly is yet and why it needs the Doctor. The suspense just keeps on growing.

I really like the characters within this episode. Mimsy is one of the usual Paul Magrs great creations, in the vein of Iris Wildthyme and yet not as openly lovable as she. More dark and multilayered for a start.

What also really helps is that these stories arent too overly long. And what also helps is the character list is smaller so theres a chance to get to know the fewer characters a whole lot better.

Doctor Who is still as fresh within the audio medium. Its a pity the new TV series cant follow suit.

One cant wait to hear the final installment of this series which has beaten Hornet's Nest for its wit, interest and slightly darker story content. So far this is one of the best running series of Doctor Who stories done to date.

One is so glad the BBC has had the sense to bring back Mike again. He was a bit of a missed chance after that debacle with the Dinosaurs. One is glad that Richard was able to do it. He's a great actor. He always did have a three dimensional character though.

And Paul has again managed to write perfect fourth Doctor once more. It genuinely sounds as if Tom Baker is really enjoying doing these audio stories. This comes very highly recommended from me.
| | | |
| --- | --- | --- |
| | | |
| | Almost killed the series for me. | |
| | | |
By:
Philip Frey, Rochester, NY, United States
Date:
Wednesday 1 February 2012
Rating:
1
Almost killed the series for me.
By:
David Layton, Los Angeles, United States
Date:
Wednesday 1 April 2015
Rating:
6
Part 4 of "Demon Quest" finds Doctor 4, Mike Yates, and Mrs. Wibbsey traveling to New York City 1976. There, they get involved in a comic-book adventure featuring a decaying movie star (Norma Desmond, anyone?), a nebbish pretzel boy, a ghoulish cult of Doctor impersonators, and a mysterious meteorite that gives superpowers to pretzel boy's girlfriend. On top of that, pretzel boy is the narrator. Some good things about this are that at last Mrs. Wibbsey gets to be an active character and really do a proper companion role instead of just complaining about everything, the story is very comic-book like and so maintains the atmosphere that was set, and the plot does not have too many holes in it. However, there are several problems. First, pretzel boy is uninteresting as a narrator. Second, Mike Yates is again pretty useless. Third, is there any surprise at all about who the aging movie star really is?