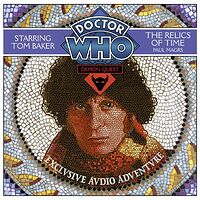 | | | |
| --- | --- | --- |
| | | |
| | Reviews for Demon Quest: The Relics Of Time | |
| | | |
There are 2 reviews so far. To add a review of your own for this item, visit the voting page.
By:
Matthew David Rabjohns, Bridgend, United Kingdom
Date:
Wednesday 20 October 2010
Rating:
10
Tom Baker again sinks back into the role that made him famous. All teeth and curls and as good as ever. After the success of Hornet's Nest a year ago here he is back again in Demon Quest. And to be honest, judging from this first outting, I think this is going to be even better than that first run of 5 audio stories.

Susan Jameson is back on form too, breathing new life into Mrs Wibbsey. She seems to be becoming far more likeable than the irisacble old woman she seemed to be in Hornet's Nest. Im starting to get into her character more and more.

The small supporting cast are all good too. And again this story starts the ball rolling with questions that still need to be answered. yes, this leaves you wanting to come back for more. And what is also good is that Mike's small cameo call to the Doc in turn saves the day here, which is a nice piece of scripting and great storytelling. This first segment of Demon Quest is whetting my appetite nicely. Im looking forward to seeing what is to come very soon.

I love the inclusion of the elephant. The fact that an elephant might be a traveller with the Doctor is a funny and original aspect. It should be amusing to see what comes of this lovely elephant in the rest of the series. What I like more here too is theres more talk from all the other characters too. The first segment of Hornet's seemed to be mostly just a Tom highlighter, which wasnt bad but it lacked the amount of score and pace that is present in this tale.

I am really so glad that Tom has come back as the Doctor. All his characteristic vices and isms are here presented boldly and to the fore. It still hardly seems like he's been away. And above all else this does manage to conjure up the feel of the seventies Tom Baker period of Doctor Who. Its full of nostalgia. Its full of Paul Magrs usual brilliant writing.
By:
David Layton, Los Angeles, United States
Date:
Friday 6 March 2015
Rating:
7
I have been highly critical of Paul Magrs' writing elsewhere on this site. However, this little adventure I actually like. That is probably because Magrs tones down significantly all the little irrelevant bits that usually make his writing so irksome, and focuses on telling the story. It is a vast improvement over "Hornets' Nest," in which everything seemed to have been written just so he could get in a mildly clever pun or show off his talent for alliteration. The structure of "Demon Quest" seems to be basically the same as in "Hornets' Nest." We start at Nest Cottage, something strange happens, and this forces the Doctor to travel in time to get little bits of the story, presumably to put it all together at the end. This particular bit of the story involves the Doctor and Mrs. Wibbsey, the apparent cause of his trouble this time, to travel to Roman Britain and negotiate with some Britons so he can find out how a Roman mosaic tile of his likeness ended up there. This adventure has less narrating and more dramatizing than "Hornets' Nest," which is also an improvement. Still, some of the Magrs quirks are still there, such as the Doctor's being left with an elephant that he must take care of in an offhand manner. This is typical of Magrs' inability to take care of the many loose ends he tends to leave untied.