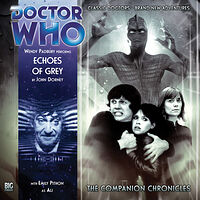 | | | |
| --- | --- | --- |
| | | |
| | Reviews for Echoes of Grey | |
| | | |
There is 1 review so far. To add a review of your own for this item, visit the voting page.
By:
Matthew David Rabjohns, Bridgend, United Kingdom
Date:
Friday 29 October 2010
Rating:
10
i always really loved the Patrick Troughton time of Doctor Who. I cant put my finger on exactly what was so brilliant about this period, but it was oh so special. The stories were just so consistently good, with very few let downs amoungst the brilliance. Perhaps it was his clownish approach to the role of the Doctor, perhaps it was the fact he had some of the best companions, perhaps it was down to the best villians to ever grace the TV screen. Well, whatever it was, lets just say that with Echoes of Grey, John Dorney captures it all so well and yet also gives something new to the mix of the era too.

The Acromatics are at once a sad, and yet also highly believable set of "aliens". The best intentions that go wrong yet again, as with humanity they always seem to every day. But the thing is that they are not truly evil, they just fulfill the purpose they were created for. This adds to the impact of the play. And the sound score on this play here is excellent, haunting and vibrant, it fits the story perfectly. And that the Doctor should realise that even though he has to end the scheme and destroy the Acromatics, he can see the good points to their creation.

Wendy Padbury does a brilliant job here. Her first story in the Chronicles series was far more traditional, and here there is a lot more to the story than just traditional plot threads. Echoes of Grey has a lot that is fresh and imaginative about it. It is one of the very best companion chronicles Ive heard so far. It is just sad that the second Doctor didnt have this story all those years ago when Pat was still alive, but one cant have it all at once. And at least we have it now!

I could guess that Ali was not who she made out herself to be, but this little thing doesnt mar the overall impact of the story. And I love the conclusion to this tale. Wendy breathes such life into her character again, and reminds us why Zoe Herriot was such a brilliant companion. This story comes highly recommended.....