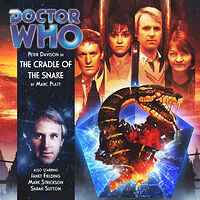 | | | |
| --- | --- | --- |
| | | |
| | Reviews for The Cradle of the Snake | |
| | | |
There are 4 reviews so far. To add a review of your own for this item, visit the voting page.
Cradle brings back perhaps one of the most original foes of the doctor. Playing on the same weeknesses of mankind at previous TV stories, but with a great and enjoyable twist.

I was pleased to see the companions remain and hope to see a lot more from the old gang with big finish.
| | | |
| --- | --- | --- |
| | | |
| | Suitably different from the first two... | |
| | | |
By:
Matt, Poole
Date:
Monday 27 December 2010
Rating:
10
Kinda and Snakedance were always two of my favourite Peter Davison stories back in the eighties. They had far more depth and imagination than a lot of the other Davison Era tales. They were clever and the characters were all 3D and all that maybe slightly let them down was that massive rubber snake at the end of Kinda, (which was greatly improved for the second tale)

But what is good and strange is this one isnt a Tegan story. She does as usual possess her guts and strength and her attitude all the way through this audio venture for the Mara, but it Peter Davison who certainly shines within the confines of this excellent story.

I love this TARDIS team. They all just go together so very well indeed. It is like they havent been away since all those years ago in the eighties. Sarah and Janet just go back together like two pieces of the jigsaw, with Mark's Turlough their to brilliantly upset the mix decently. And great that he is far more involved again here even though he has to share script with two other companions.

Also of note is the fact that very little of Kinda or its sequel has much impact on this tale. I love the first scenes with Tegan's rather funny yet at the same time rather dark dream, with the Doctor entering to get rid of that demon snake. The Mara is far stronger also here, for I would have expected the Doctor to withstand the snake better than anyone else. But if there was a Doctor who'd falter then it would be the most human one wouldnt it? And Peter really does steal the show. That hissing serpent effect is pretty great too. This story has it all: pace and many great characters. One would expect no less from a Marc Platt story!!!!
| | | |
| --- | --- | --- |
| | | |
| | Not As Good As It Should Have Been | |
| | | |
By:
David Layton, Los Angeles, United States
Date:
Sunday 9 September 2012
Rating:
8
With a classic TARDIS team in place, it was a good idea to return to some old ground and resolve some old questions. Bringing on board a writer for the TV series, albeit from a little after, would additionally bring the flavor of the original series to the new audio. On one level, this is a success. The four principal actors got along very well in the 1980s and work well together reunited. They are in full form in this third of the first trilogy with them. The script has some interesting ideas. The most interesting is to have the Mara take control of the Doctor this time. It seems logical, given the escalation factor that goes along with these things. Davison is brilliant playing evil, in particular in bringing out the delight the Mara has at causing chaos. We also get the joy of Nyssa's getting taken over, so that Sarah Sutton can play "naughty." She does very well with this, too. Writer Marc Platt also does a very good job of recreating some of the surrealistic touches of the original Mara stories.

There are two major areas where the drama fails to deliver. The first is the character of the snake herder. Vernon Dobtcheff is forced (or maybe chose to) play this with the standard, hokey wise-simple-native accent, unbearably slow delivery, and portentous-sounding voice that just gets irritating. As an American, all I hear is the stereotypical "wise Indian" of bad old western movies. The other failure is in the writing. Platt stays true to Chris Bailey's originals in certain regards, such as that no one dies, but everyone feels threatened. However, the script lacks the rich mythical-literary background that made Bailey's scripts so effective. Platt goes for a more straight Doctor Who approach. To me, anyway, this makes the story less interesting than the originals.

Overall, "The Cradle of the Snake" is a treat for the fan in the listener, allowing the principal actors to give it their best and delivering a classic-style story without too many frills.
| | | |
| --- | --- | --- |
| | | |
| | 6 for the story, 10 for Evil Davison | |
| | | |
By:
Alexandra Smith, Alexandria, United States
Date:
Wednesday 10 April 2013
Rating:
8
This story will make no sense at all to anyone who hasn't seen Kinda and Snakedance, but I suspect you all have. It does not do anything really special or groundbreaking with the Mara, one of classic Doctor Who's more interesting "threats." The way it's vanquished at the end is a little confusing. But there are some clever pieces in it and it's a story I will listen to over and over again to hear Sarah Sutton and Peter Davison being possessed. They are terrific, especially Davison. It's a damn shame he hasn't had more opportunity to play villains because he does it quite well when he gets the chance. And interestingly, the only time this very attractive actor is really sexy is when he's playing a bad guy. I wonder if his shrink has noticed that. Ladies, if you have even a little crush on Davison, listen to this audio and listen to it in a private place.