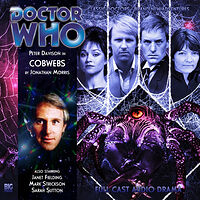 There are 4 reviews so far. To add a review of your own for this item, visit the voting page.
It's great to have the old gang back together all bumbling around fighting and squabbling with each other. Without giving it away the crew are brought back together smoothly and believably, quickly thrown into a fast story that gets you thinking how will it end. Nyssa stands out in the story and the plot is perfect for her, it would have been a 10 but the ending was a little to easy in parts for me.
By:
David Layton, Los Angeles, United States
Date:
Friday 12 November 2010
Rating:
7
The Big Finish trilogies have worked fairly well. Here is the first of a new trilogy which reunites the 1983 TARDIS crew. Intriguingly, though, Nyssa is now an older, wiser woman, while Tegan and Turlough are their younger selves. Fielding's voice does not pass as 20 years old. Otherwise, the characters are very much as they were. The story itself is typical of 1983. Think "Terminus," which has the characters presented with a seemingly insoluble problem, split apart, threatened by everyone in the situation. It is not special, but does deliver at the level its makers intended.
By:
Matt, Aylesbury
Date:
Monday 10 January 2011
Rating:
10
I have to be honest - I wasn't expecting anything amazing, and that was very bad of me. We always remember somethings a bit differently, and I worried that the team wouldn't live up to the TV series. I was wrong.

This audio story was truly brilliant and an excellent way of bringing together these three companions. Unlike the TV series, all of them could think for themselves and actually help the Doctor - it wasn't all about him being the guy with all the answers. I also liked all the nods to the series - "Brave Heart, Tegan" and many other things.

The team worked so well together, and I am now looking forward to listening to some more from these guys - bring on the next adventure, I am ready.
By:
Matt Saunders, Buckinghamshire, United Kingdom
Date:
Wednesday 10 July 2013
Rating:
10
...but brilliant. Great to hear them back!