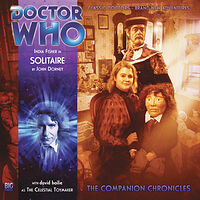 There are 3 reviews so far. To add a review of your own for this item, visit the voting page.
By:
David Thomas, Liverpool
Date:
Monday 2 August 2010
Rating:
10
I love India Fisher as Charley so was thrilled she came back to do this CC. It is one of the best too with David Baillie also on fine form. Totally recommended.
Solitare is the best in the series so far. Moving away from the tradditional style,to deliver a tight, clever, cripping and surprising story. I loved it.
By:
David Layton, Los Angeles, United States
Date:
Monday 9 August 2021
Rating:
8
This audio differs from most other Companion Chronicles stories in being a 2-hander drama rather than a narrated story. Charlie finds herself in a toyshop, but cannot remember who she is, why she is there, and what she is meant to do. The Toymaker runs the shop. She must play his game, but she does not know the rules or the objective of the game. It's as if Harold Pinter or Samuel Beckett were writing Doctor Who. The interaction between India Fisher and David Bailie works very well. Some of the dialogue gets repetitious, and Charley seems far too clever at points. However, overall this audio is very good.