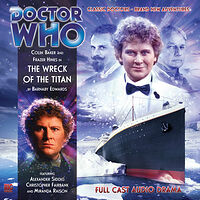 | | | |
| --- | --- | --- |
| | | |
| | Reviews for The Wreck of the Titan | |
| | | |
There are 3 reviews so far. To add a review of your own for this item, visit the voting page.
Titan builds on the previous story arc with great success. Surprises and twists carry the story along at a good pace. There are many dramatic, hollywood size moments in Titan, whilst some work well, others feel over powering on audio, with the cast required to describe too much to the listener. But Titan is a great story and a real roller coaster, the ending is excellent and leaves you with questions and wanting more.
By:
David Layton, Los Angeles, United States
Date:
Saturday 11 December 2010
Rating:
8
One of my favorite "Doctor Who" story types is the "unreal reality" story, the kind in which normal perspective gets tweaked, the physical rules of cause and effect go out of whack, and reality just is not what it should be. "Doctor Who" is formatted well to suit this kind of story. That is what we have here, an adventure in a world ruled by adventure story logic. The Doctor and Jamie arrive on what they think is the QEII, but discover that it is really the Titanic. Or is it? The details are just not right, the surface more facade than fact. Then, reality twists. There will be several twists to come, all moving toward an inexorable conclusion that pushes logically toward the third story in the "Jamie" trilogy. The writing is brisk, the soundscape convincing.

I have only one strong complaint, and this is levelled at the "Doctor Who" audios of the last 2-3 years and not just this one. This is the habit of having the Doctor ask a pointed question, only to have the answer deflected by some sudden intrusion. I keep wondering in these things why no one ever wants to give a straight answer to a straight question. I know that the trick increases suspense, but it does not have to go on and on several times in one story. Toward the end of this one, all anyone says to the Doctor's questions is something like "You will find out soon." Too many times for this makes it more irritating than suspenseful.
By:
Matthew David Rabjohns, Bridgend, United Kingdom
Date:
Monday 27 December 2010
Rating:
10
Giant Squid. Polar Bears. And the land of Fiction. Titanic and the Titan. This tale is very very entertaining to say the least. It doesnt feel like its nearly two hours at all. The plot unfolds at a brisk and brilliant pace. And Fraser Hines is particularly good here. He has always been a favourite of mine. Its good to see him back in full force after so many years.

The cast is small, and this gives more time to let the characters grow and get deeper than those audios with a far bigger cast list. This is a good thing. I love the characters within this tale. This Colin and Fraser trilogy has been excellent overall.

The giant squid and the polars are brought to audio life rather well here, and the score again goes perfectly with this type of story. This is yet again another Big Finish success story.